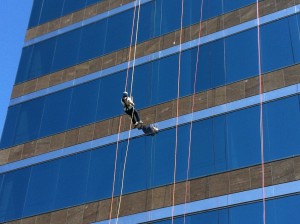 Go Over The Edge for Special Olympics Georgia, Saturday, April 26, 2014 at Buckhead Tower in Atlanta!!

This April take your support for Special Olympics Georgia to new heights! Do you think you can be as brave as our Special Olympics athletes by getting out of your comfort zone? Well, here's your chance! On April 26, 2014 join "edgers" who are willing to face the challenge of raising $1,000 to rappel off  Buckhead Tower (a 20 story building) for the 25,878 athletes of Special Olympics Georgia.
Special Olympics Georgia is looking for a few good men and women to make their mark in history while supporting the most credible charity in America. This is your opportunity to experience first-hand what it means to face a challenge that initially seems quite daunting but at the same time celebrates the challenges and similarities we all share in life. It is your chance to show our athletes your courage and your support of what they experience daily. No prior experience is needed! Everyone is welcome!
Register today and pay your $25 registration fee to start fundraising!!
Don't want to go Over the Edge? Gather your co-workers and raise $1,500 to send your Boss Over the Edge!  Choose Toss your Boss when you register, make a $10 donation and form your team! Once your team reaches the goal you will be contacted to set up a time slot to Toss Your Boss!
**PLEASE NOTE- Contribution is contingent on the event occurring, money will be returned if the event does not occur. Money will be counted as a contribution in the year of the event. (2014)
Contact Autumn Unrein for questions
Email: Autumn.Unrein@SpecialOlympicsGA.org, Phone: 770-414-9390 x118
Follow us on Twitter @SOGAOverTheEdge
Presenting Sponsor:

Edger Sponsor:
Toss Your Boss Sponsor- State Bank Trust and Company

Official Media Sponsor:
In-Kind Sponsors: