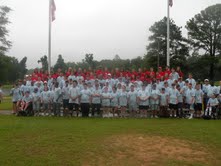 Athlete Camp — Camp Inspire    
The mission of Camp Inspire is to provide Special Olympics Georgia athletes the opportunity to attend an overnight, week long camp where they will train in Special Olympics sports while in a camp atmosphere. This camp will promote activities that provide sports training while also encouraging athletes to play, laugh and have fun as individuals and teammates.
Eligibility Requirements and for Camp Inspire are as follows:
1. The applicant must be a registered Special Olympics Georgia athlete 13-18 years of age.
2. The applicant must possess adequate self-help skills and have no behavioral problems.
The Camp Inspire 2014 Paperwork for Registration is as follows:
Click here for the 2014 Camp Inspire Flyer
Click here for the 2014 Camp Inspire Camper Application
Click here for the 2014 Camp Inspire Checklist
Click here for the 2014 Camp Inspire Release Waiver
Check out these videos from Camp Inspire 2013:
The 2013 Special Olympics Georgia Camp Inspire was held on June 17th – 24th, 2013 in beautiful Warm Springs, GA.  There were 70 SOGA athletes that attended the weeklong camp, enjoying rock wall climbing, archery, boating, fishing and much, much more!  We were blessed with beautiful weather and happy campers, which made for a great camp week.  Thank you to all of the Camp Twin Lakes staff and the volunteers from the Knights of Columbus for all of you help during the week!  We would also like to thank our other sponsors; Finish Line, Rotary Club of Dunwoody, Patterson-Barclay Memorial Foundation, Gannett Foundation, and the Rotary Club Foundation for all of their support in helping Special Olympics Georgia to provide camp to Athletes from across the State!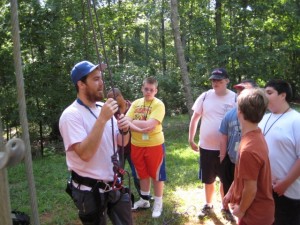 Camp Dream staffer, David, teaching the guys about climbing safety before they conquer the vertical play pin.
Vertical Play Pin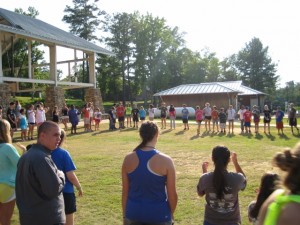 Every morning the entire camp would have silly song and dancing before breakfast.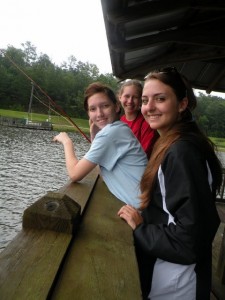 Campers enjoying some fishing time with one of YLEAD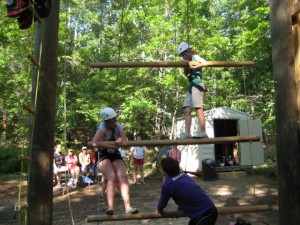 Two campers help each other complete the Dangling Duo at the Ropes Course.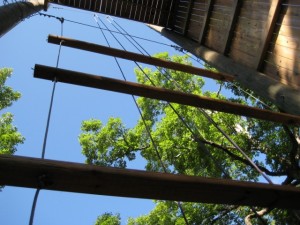 The Dangling Duo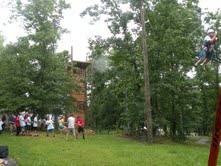 Knights of Columbus members help pull an athlete to the top of the big swing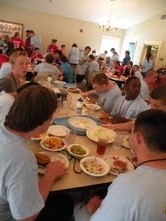 Come and get it!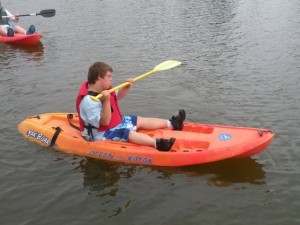 Cody enjoying some time of the pond with his group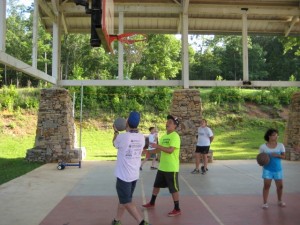 A few athletes enjoying some time on the court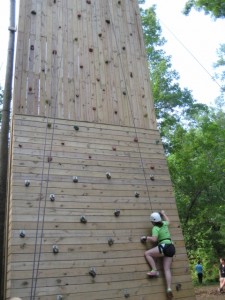 Athletes conquering the rock wall!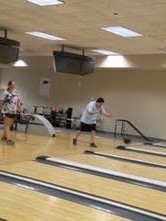 Gabe working his magic at the bowling alley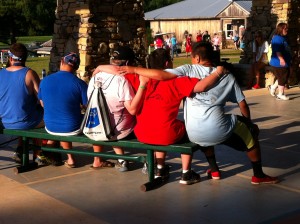 This is what camp is all about
For questions about Camp Inspire you may contact:
David Crawford, Sports Manager
229-292-5143
david.crawford@specialolympicsga.org
Camp Inspire Youth Forum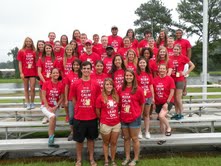 In conjunction with Camp Inspire, Special Olympics Georgia also offered a Youth Forum during the same week. The Camp Inspire Youth Forum provided Special Olympics Georgia youth volunteers the opportunity to  attend an overnight, week long camp where they experienced team building, leadership training, educational sessions, and participated in activities with Special Olympics athletes, staff and volunteers. Youth volunteers designed the acronym YLEAD for their team: Youth Leaders Educating others About Disabilities. YLEAD Team Members learned about several different Special Olympics initiatives through the week and each member plans to take a different component back to their school for implementation in the 2013-14 school year.
Click here for the 2014 Youth Forum Flyer
Click here for the 2014 Youth Forum Application
Click here for the 2014 Youth Forum Medical Information Form
Click here for the 2014 Youth Forum Release Waiver
Click here for the 2014 Youth Forum Facts Sheet
For questions about the Camp Inspire Youth Forum or the YLEAD Team, please contact:
Michael Wilson, 770-414-9390 ext. 108
Sports Manager
michael.wilson@specialolympicsga.org
4000 Dekalb Technology Parkway
Building 400,  Suite 400
Atlanta, GA 30340
Project UNIFY
The Camp Inspire Youth Forum is a component of Project UNIFY, which is a year-long project to activate young people across the country in an effort to promote school communities where all young people are agents of change – fostering respect, dignity and advocacy for people with intellectual disabilities.  Special Olympics believes that through sports young people can make a difference in friendships, schools and communities. Project UNIFY promotes a cultural shift and positions Special Olympics as a leading cause among youth – as important, not just "nice," and as relevant to each of us, not just for "them."  In addition, Project UNIFY leadership activities will help develop the next generation of leaders and advocates for individuals with intellectual disabilities.
Camp Inspire presented by: