On March 1st, 2017 we kicked off our annual Spread the Word to End the Word awareness day!
The "Spread the Word to End the Word" campaign is an ongoing effort by Special Olympics, Best Buddies International and Special Olympics supporters to raise the consciousness of society and the dehumanizing and hurtful effects of the word "retard(ed)" and encourage people to pledge respect to everyone. The campaign, created by youth, is intended to engage schools, organizations and communities to rally and pledge their support at www.r-word.org in order to promote respect, the inclusion and acceptance of people with intellectual disabilities.
Click here to view all resources and tools to host your own R-Word Rally in your community
We want to know about your R-Word Rally! If you host a local rally, please send your story in to your Sports and Program Manager.
You may get your merchandise online at RWordStore. If you are in need of any bracelets or R-Word Pledge cards, please contact your Sports and Program Manager to be delivered.
For more information, please contact your Sports and Program Manager
R-Word Rally in Atlanta, Georgia
During the week of October 16th, Woods Curry, a student at Westminster High School and Special Olympics Youth Forum participant, held and R-Word Rally to raise awareness for Special Olympics. He set up a table outside of the campus dining hall during lunch and had students sign certificates, which he is planning to have displayed in the school. Through his successful campaign, he got 388 students to make the pledge to end the R-word. Woods is currently working with other parts of his school to get even more chances for students to make the pledge. Great job Woods!
R-Word Rally in White County, GA
On March 9th, students at White County Middle School held an R-Word Rally to help Spread the Word to end the Word. There were 465 pledges to show respect for those with intellectual disabilities and bring awareness to stop using the R-Word. Thanks to White County for a successful rally!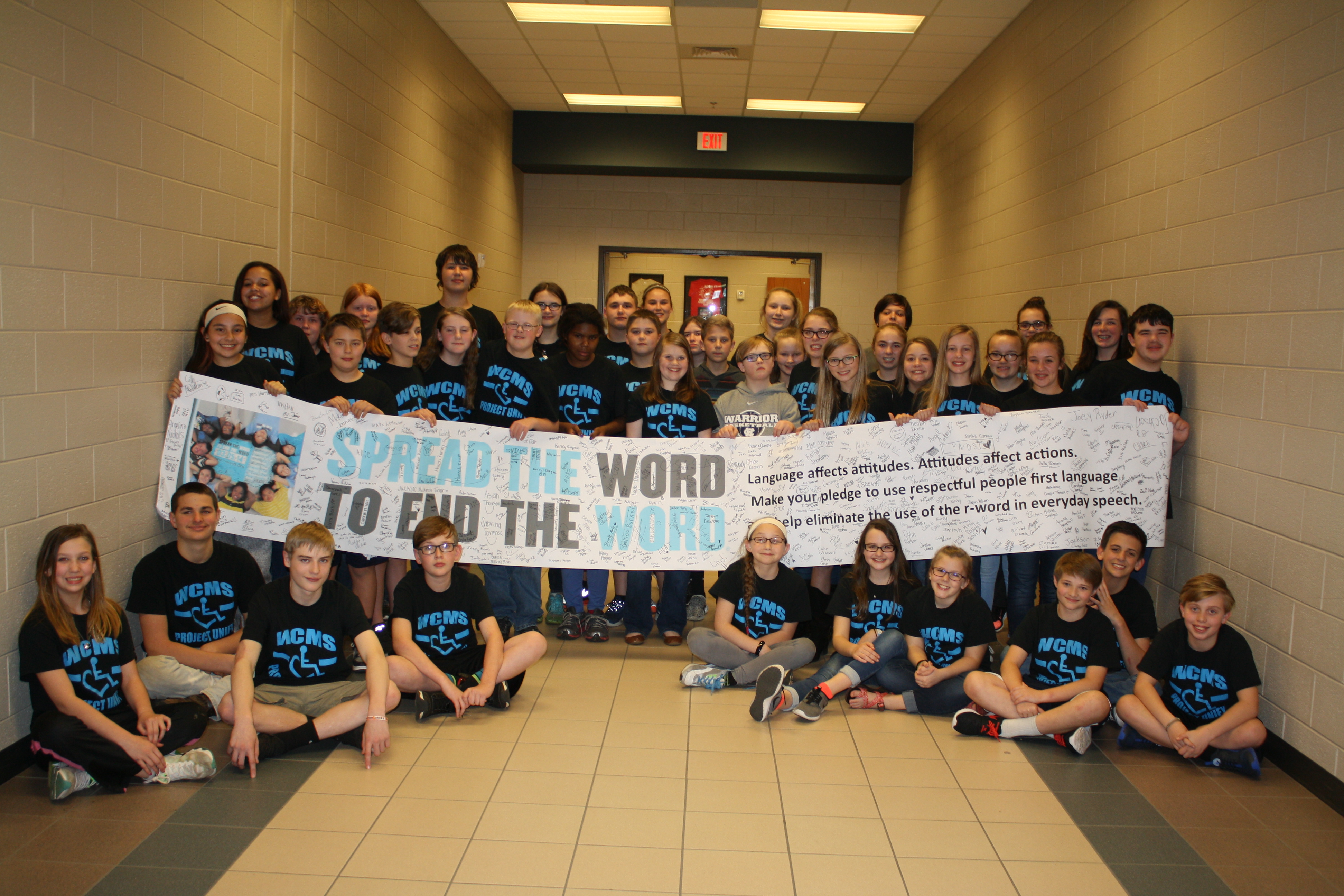 R-Word Rally in Monroe County, GA
On March 1-2, 2017,  students at Mary Persons High School in Forsyth Georgia took part in the Spread the Word to End the Word campaign hosted by Mary Persons' chapter of Best Buddies. On Wednesday, March 1, freshman from the school's Freshman Campus signed the pledge banner during their lunches and, after signing, received a Spread the Word to End the Word bracelet, donated by Special Olympics Georgia. On Thursday, March 2 upperclassmen on the school's main campus did the same, totaling 500 students. The pledge banner was displayed in the school's gym on Friday, March 3 at the school wide Respect Rally, which brought 1,200 students together. The bracelets students were given up signing the pledge banner will allow them to Spread the Word into the Forsyth and great middle Georgia communities.