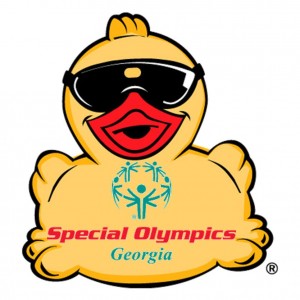 Spend the Bucks. Adopt Some Ducks. TRAIN CHAMPIONS!
Friday, June 21
Six Flags White Water – Marietta, GA
Park opens at 10 a.m.  Race at 2 p.m.
By adopting ducks and donating to Special Olympics Georgia, you are making a difference for the 24,470 registered Special Olympic Athletes in Georgia. Our program provides year-round sports training and competition for children and adults with intellectual disabilities. As athletes have fun and develop physical fitness, they find acceptance, become confident and aspire to greatness in other aspects of their lives.  Our goal is to help bring persons with intellectual disabilities into the larger society under conditions whereby they are accepted, respected, and given the chance to become useful and productive citizens in their communities.  When we achieve this goal through our sports programs, we demonstrate that Special Olympics has a unique value: to show the world that every person counts.
For each $5 donation you make to Special Olympics Georgia, a racing duck will be adopted and entered into the race for the chance to win. More importantly, your contribution helps ensure that Special Olympics Georgia can continue to offer free year-round sports training and competitions to more than 24,470 children and adult athletes with intellectual disabilities all across Georgia.
A $30 Quack Pack includes 7 duck entries into the derby and you'll receive a souvenir Jr. duck. Your donation also provides the funds for gold, silver, bronze medals and ribbons for one competition at the State Summer Games.
A $60 Quacker's Dozen includes 15 duck entries into the derby and you'll receive 2 souvenir Jr. ducks. Your donation also provides funds for housing for two nights at the State Summer Games for two participants.
A $100 MEGA Quack Pack includes 25 duck entries into the derby and you'll receive 3 souvenir Jr. ducks. Your donation also provides funds for housing for two nights at the State Summer Games and two meals at the State Summer Games for four participants.
Click here for the 2013 Duck Derby Brochure
You could win one of these prizes:
First Place: RCA HDTV, DVD, and Home Theater Bundle
RCA 42″ Class LCD 1080p 60Hz HDTV, 42LB45RQ with RCA RTD317W, DVD Home Theater System with 1080p HDMI DVD Player
Second Place: IPad Mini 16 MB
Third Place: $300 Publix Gift Card
Fourth Place: IPod Touch 16 MB
 Fifth Place: $150 VISA Gift Card
The Duck Derby is presented for the benefit of Special Olympics Georgia, a charitable organization under the 501(c)3 of the Internal Revenue Service.  Tax ID# 23-7201676
1. A minimum of 10,000 ducks will be entered in the race.
2. Ducks will be launched into the Little Hooch River at Six Flags White Water at approximately 2:00p.m.  Chances of winning depend on the total number of qualified entries.
3. All ducks entered will be provided by Special Olympics Georgia (hereafter 'the Presenter') and shall remain the property of the presenter.
4. Once the ducks are launched, they are on their own.  No attempt to free or interfere with any duck is permitted, unless deemed necessary by the race day committee.
5. A number will be attached to each duck relating to the number on the adoption paper.  Multiple duck entries from one adoption paper will be assigned additional duck numbers for identification.  The persons' names which appear on the adoption papers corresponding to the first qualifying ducks to finish will be awarded prizes.  A list of prizes and winners will be posted at www.AtlantaDuckDerby.com and at the offices of Special Olympics Georgia at 4000 DeKalb Technology Parkway, Suite 400, Building 400, Atlanta GA  30340.
6. The winner of the 1st prize must be 18 years of age or older, or a parent or guardian must accept the Prize.
7.  No cash equivalent prizes will be provided in lieu of the designated prizes.  ANY SALES or INCOME ARE THE SOLE RESPONSIBILITY OF THE WINNER.
8. An adoption, in exchange for $5 per duck, can be obtained online at www.AtlantaDuckDerby.com, from any member of the Duck Derby committee, Presenter staff members, and from other sources authorized by the Presenter.
9. No purchase is necessary.  Free entry tickets defeat the charitable fundraising purpose of the event and are not encouraged.  However, any person may, prior to Wednesday, June 19, 2013 at 5 p.m., request one free entry by appearing in person at the Presenter's office stated in Regulation 5, with a written request Monday through Friday between the hours of 9 a.m. to 5 p.m.
10. The entry portion of each adoption paper or online registration form must be completely filled out and delivered to the Presenter or an authorized representative of the Presenter at the address set forth in Regulation 5 above, and actually received by Presenter prior to the race for an adoption paper to be eligible to win any prize.  Entrants assume the risk of non-delivery of any entries to Presenter or an authorized representative of the Presenter.  Mail entries must be received by Thursday, June 20, 2013 and online entries must be received by Friday, June 21, 2013 at 11 a.m.  If all ducks are not adopted in advance, ducks will be available for adoption at the race site the day of the race.
11. By entering, winners consent to the promotional use of their names and likenesses without additional compensation.
12. Excess ducks may be launched into the race.  If the first duck to cross the finish line is an excess duck, the 1st place prize will be awarded to the adoptive parents of the first Adopted Duck to cross the finish line.  The remaining prizes will be awarded in the same manner.
13. Winners will be announced at the finish of the race and the tabulation of the results.  Winners need not be present to win, and will be notified by telephone, email, or US Postal Service.  If any winner does not claim his or her prize within 30 days of the race date, Presenter will select an alternate winner through a random drawing of entries.  All prizes will be awarded. All five prizes will be awarded.
14.  All decisions and interpretations of rules and regulations will be made by Presenter and the Race Committee and its judgments are final.
15. In case of bad weather, technical difficulties or other acts of God, Presenter reserves the right to postpone the race upon announcement, or select winners by an alternative method.  Presenter shall not be held liable in any way for any loss, damage, or inconvenience, which may be caused by any such postponement or cancellation of the Duck Derby.
16. Staff members of Presenter shall be ineligible for the 1st prize.  In the event that the 1st prize duck belongs to an "ineligible" person, the 1st prize will be awarded to the 2nd place duck, and the ineligible person will be awarded the 2nd prize.
17. A copy of these Rules and Regulations is available from the Presenter by sending a written request and a self-addressed, pre-stamped envelope to the Presenter at the address shown above in Regulation 5.
18. The Derby Duck Race/Turbo Turtle Trek is a licensed fundraising event of GAME-Great American Merchandising and Events.  The logo and name Derby Duck Race/ Turbo Turtle Trek are registered trademarks of GAME and cannot be used or copied without its written consent.  For more information please log on to www.game-group.com or call 480-245-7681.
19. Paid admission is required to enter Six Flags White Water and is not included in the duck adoption fee.
Please contact Kelli Britt at 770-414-9390 ext. 120 or Kelli.Britt@SpecialOlympicsGA.org.
SOGA
http://www.specialolympicsga.org/wp-content/uploads/2015/07/soga-logo.png
SOGA
2013-06-10 18:35:50
2013-06-10 18:35:50
Duck Derby, June 21, Marietta