Second straight year this SOGA double-event is being held in "Poultry Capital of the World"
Atlanta – October 1, 2015 – For the second straight year, Gainesville and the Hall County area will be the site for two of Special Olympics Georgia's biggest events each year – the State Fall Games and the State Horse Show.
This double-event is set for next weekend, Oct. 9-11 at four different venues in the Gainesville area. Nearly 2,500 athletes and unified partners will travel for the State Fall games to compete in bocce, cycling, golf and softball. Venues for the State Fall Games are North Hall Park (bocce and softball), Laurel Park (softball and cycling) and Chicopee Woods Golf Course.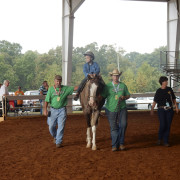 In addition, approximately 240 athletes will participate in the State Horse show, which will be held at Chicopee Woods Agricultural Center. Riders will be competing in events such as dressage, horsemanship, showmanship, western riding and unified drill team.
The Opening Ceremony for both events will be on Friday, Oct. 9, beginning at 7:30 p.m. The State Fall Games' Opening Ceremony will take place at Gainesville Middle School, while Chicopee Woods Agricultural Center will host the State Horse Show Opening Ceremony.
The State Fall Games and the State Horse Show are both free and open to the public.
"Special Olympics Georgia is excited to be back in Gainesville/Hall County for the State Fall Games and Horse Show," said Special Olympics Georgia CEO Georgia Milton-Sheats. "Over 2,000 athletes from around the state will be traveling to Gainesville to compete and they will be going for the gold! The Gainesville community has been so welcoming and supportive and we hope to see many of you in the stands and cheering on the athletes.
"Thank you, Gainesville, for being fans of the athletes."
In addition to the competition itself, there will also be Olympic Town on Saturday, Oct. 10, between 10 a.m. and 4 p.m. inside the North Hall Park Community Center gymnasium, where athletes can enjoy games, crafts, snacks and more. Athletes will have their balance, strength and flexibility measured by physical therapists for free.
There will also be a Young Athletes demonstration at Olympic Town for any children, ages 2-7, with and without intellectual disabilities. Here, children will go through quick stations that teach sports skills, prepare these Young Athletes for future competition and encourage cognitive and motor development.
Olympic Town at the State Horse Show will also be on Saturday, Oct. 10, from 10 a.m. to 4 p.m. in the Activity Hall of the Agricultural Center. It will feature arts and crafts.
Special Olympics Georgia would like to thank the three Presenting Sponsors for the two events – Lockheed Martin for the State Fall Games and Farm Bureau and Dr. Chris Claire and Family for the State Horse Show.
Those interested in volunteering should contact whitney.warren@specialolympicsga,org. For more information and a schedule, please visit www.specialolympicsga.org.
About Special Olympics Georgia SOGA provides year-round sports training and athletic competition in a variety of Olympic-type sports for 26,702 children and adults with intellectual disabilities, giving them continuing opportunities to develop physical fitness, demonstrate courage, experience joy, and participate in the sharing of gifts, skills, and friendships with their families, other Special Olympic athletes and the community. For more information, visit www.specialolympicsga.org.
http://www.specialolympicsga.org/wp-content/uploads/2015/10/Cover.jpg
2020
3072
Meghan Daves
http://www.specialolympicsga.org/wp-content/uploads/2015/07/soga-logo.png
Meghan Daves
2015-10-01 13:19:22
2015-10-01 13:19:22
Gainesville set to host both State Fall Games and Horse Show for Special Olympics Georgia