Do you have a story about Special Olympics to share?
Please contact Meghan Daves, Communications and Marketing Manager, at meghan.daves@specialolympics.org.
Ellen Holland: Medical Coordinator for 2017 State Games
I have been involved with State Level Special Olympics since 2003 and worked with Local games prior to that time.  The joy I see on the athletes faces as they compete is impossible to describe with words.  As a parent of a Special Olympics athlete I have watched him become more confident, independent and develop lifelong skills.  Special Olympics provides an atmosphere where athletes can compete and achieve success.  I have often been asked why I volunteer or told that they are so lucky to have me.  In all reality I gain more from the time I give then anything.  The determination, unconditional friendship and drive of the athletes inspires me.  They are all a true inspiration.
Story from Athlete Katy Wilson About When She Met Olympic Ice Skating Champion Michelle Kwan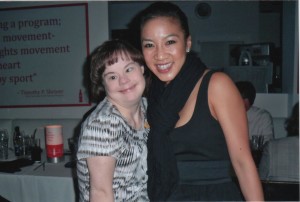 My name is Katy Wilson.  I love Special Olympics!  I have been participating in S.O. events since I was just 6 years old–over 27 years!  Being with my friends and winning medals makes me happy and gives me confidence in myself!
I am also a Global Messenger.  I love to go out and share my story about S.O., and sometimes people are surprised!  I get to tell everyone about S.O. and all the events and how much fun we have,  I tell them:  "Be a coach, be a volunteer, or just come out and cheer for us–it's a lot of FUN!"
Last year, I met Olympics champion Michelle Kwan.  She told me all about ice skating, and I told her all about the balance beam.  Both our sports can be tough and scary, and sometimes you do fall!  But S.O. has taught me, if you do fall–just get back up and try again!
Special Olympics has helped me not only in gymnastics–but in LIFE!  I have learned to be brave, to work hard, and to help each other.  We can all be WINNERS TOGETHER!
I am a(n): Athlete
City or County:
Flowery Branch, GA
About:
I am so proud to be a Special Olympics athlete–for over 27 years!   I won 5 medals in artistic gymnastics at Winter Games.  I am a Global Messenger and I serve on the Honorary Board of Directors.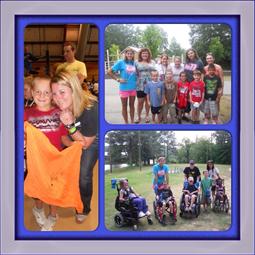 My Daughter's Love for Special Children
Our daughter(Sonia Hartley) will be with the Cobb County Sheriff's Department and making the plunge for Special Olympics. She has worked with special needs children since kindergarten. She would go in their classroom after getting off the bus and help with them in the morning then started helping in the classroom each year. During her 5th grade summer, she started working in the summer program in Gwinnett County for special needs children and is still working in some way with these special children. I remember one day when she was working in the summer program as a 6th grader, she brought one of the children to my car when I picked her up and said 'I told her mom, you would not mind taking her daughter to New Hope, Gwinnett County.
I never knew  what she would volunteer me for next. We are so proud of her and  we have been very blessed by the special children that she has brought into our lives.
Barbara And Bobby Fuller
I am a(n): Fan of Special Olympics Georgia
City or County:
Snellville
About:
We are the parents of Sonia Hartley who will be taking the plunge in Lake Lanier for Special Olympics. After surgery and radiation for an acoustic neuroma rare brain tumor I am happy to just be alive.