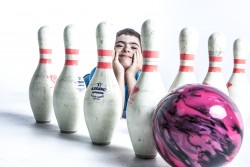 **Note to event bowlers: You must pre-register in order to participate.**
Strike the R-word  with us Sept. 16 at Bowlmor Atlanta, formerly known as 300 Atlanta. Bowl with former Falcon and Bulldog Quarterback Dj Shockley and former Steeler Quarterback Kordell Stewart in raising awareness of how the R-word (retard) hurts and demeans others. The night will be emceed by Sean Leckie (AKA Sonic of Power 96.1).
Event features food, beverages, goody bags. Participants will also receive event T-shirts, free shoe rentals and goodie bags for $45. In this event, Special Olympics athletes will be the ones awarding gold, silver and bronze medals to the highest scorers.
Costs $45 per bowler (includes food,  drinks, bowling shirt and goodie bag).
Help Dj, Kordell and Sonic reach their goals in Striking the R-word by making a donation on their pages.
Sean Leckie (AKA Sonic of Power 96.1)
All proceeds go to SOGA and donations are tax deductible. Bowling know-how is not required. Strike the R-word was started by former Atlanta Hawk Marvin Williams. The event has been featured on Channel 11, NBA and CBS Radio.
For details, email  Wendy.Bigham@specialolympicsga.org for more information. Some sponsorship_levels are still available.
Strike Sponsor

Spare Sponsor


Lane Sponsor
The Family Dog
Bank of America
Georgia Athletic Officials Association
Kiwanis Club of Doraville
Fox Sports South
Friends of Strike the R-word
Aha Connection
Armus Media Group
Pandora

SOGA
http://www.specialolympicsga.org/wp-content/uploads/2015/07/soga-logo.png
SOGA
2014-07-30 11:48:20
2014-07-30 11:48:20
Strike the R-word, September 16, Atlanta