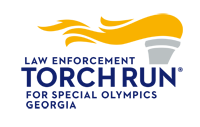 Law enforcement  officers run the Flame of Hope across the state in the annual Torch Relay in May. Officers carry the Flame of Hope into the Opening Ceremony of State Winter, Summer, and Fall Games each year. The top five fundraising departments have the honor of carrying in the Flame of Hope during these games and lighting the cauldron.
2015 Torch Relay Routes!
Columbia County – Contact: Daniel Massey, Columbia County Sheriff's Office
Monday, May 11Th 9am
Route begins at (Gerald Jones Honda) at Flowing Wells Rd. & Washington Rd. and proceeds west on Washington Rd. to Ronald Regan Dr. where it ends at the Columbia County Justice Center. Total distance 3.2 miles
Warner Robins – Contact: John Clay, Warner Robins Police Department
Wednesday, May 20th 8am
Run starts from Perry Police Department Headquarters, to Houston County Courthouse, HOCO Courthouse to Highway 127/ Houston Lake RD. Proceeds on 127/Houston Lake to Houston Lake/ Fegin Mill Rd. Houston Lake/ Fegin Mill to Houston Lake. Watson/Houston Lake to Warner Robins PD HQ's.
Peachtree City – Brad Williams, Peachtree City Police Department
Thursday, May 21st 9:30am
Run starts from the Fire Station at 235-249 Paschall Rd, Peachtree City, GA 30269, right on Hwy 54 then ends at the park behind city hall.
Sandy Springs – Tim Burrell, Sandy Springs Police Department
Thursday, May 28th 10am
Run will begin at 10:00am; Starting point will be Johnson Ferry Rd and Sandy Springs Circle (old Target store), we will continue on Johnson Ferry, cross Roswell Rd and go down to Mt Vernon Hwy.  We will travel on Mt Vernon past Abernathy Rd into Dunwoody continuing on Mt Vernon.  We will stay on Mt Vernon until we reach Chamblee Dunwoody Rd where we will turn left onto Chamblee Dunwoody Rd.  We will travel to the first traffic light and turn left into the Publix parking lot.  Total Distance: 3.7 miles
Clayton County – Jae Kim, Clayton County Police Department
Thursday May, 29th 9am
We leave out of our headquarters located at 7911 N. McDonough Street, turn left onto S.R. 138, follow it o S.R. 54 (Jonesboro Rd.). From there we turn north and follow Jonesboro Road for about 8 mils. Until we reach the Home Depot parking lot just inside the city of Atlanta.
Henry County – Stephen Chance, Henry County Sheriff's Office
Tuesday, May 19th 8am
Starting at the Publix on Hwy 20 W (The Shops at Westridge, 2158 Highway 20 W, McDonough, GA, 30253-7205) we will be finishing at the intersection of Hwy 20 W and Hampton Locust Grove Rd. It is just shy of 5 miles, and there will be a bus following behind to pick up any walkers.
Final Leg (ATL/Emory/ All) – Scott Jones, Atlanta Police Department
Friday, May 29 9am
Everyone will meet at Andrew Young Square, 240 Spring St. (outside the Zone 5 Precinct) for a brief press conference prior to the start of the run. We depart at 9 am Spring Street to Ponce De Leon Street turn right, then left on Clifton to Emory University. North on Clifton Rd., turn left Asbury cir., turn left back on to Asbury cir. The run ends at McDonough field on the right.
Contact Matthew Sheridan at Matthew.sheridan@specialolympicsga.org for more information