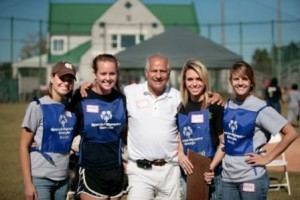 Click Here to download the Special Olympics Georgia volunteer brochure.
Click here to download the Volunteer Packet.
Click here to view all upcoming volunteer opportunities.
We have several different volunteer roles needed for our organization. Those roles include:
State Games Volunteers:
The state games include the Summer Games, Winter Games, Fall Games, Horse Show and Masters Bowling Tournament, which are held throughout Georgia. Each of the state games require hundreds and hundreds of volunteers for the weekend and volunteers are needed for jobs from cheering on athletes during competitions to assisting with equipment set-up. State games are the best way to work closely with our athletes and to see them in competition.
Special Event Volunteers:
There are several truly unique special events held throughout the year where volunteers find themselves watching groups running into the freezing waters of Lake Lanier, help out at a golf tournament, or help us race around 10,000 rubber ducks. Though these events are much smaller than the state games and are not actual competitions, they are once in a lifetime opportunities and a whole lot of fun! Make sure to sign up for the SOGA e-newsletter to stay up-to-date on all upcoming special events.
Coaches:
Our Special Olympians need proper training from devoted coaches and assistant coaches.  Coaches go through a short training/certification session that will explain what is expected and what to expect during training.  You DO NOT need to be an expert in the sport you want to coach. You only need a desire to work closely with the athletes.
Committee Members:
We have several fundraisers throughout the year that need planners, recruiters, and participants. Volunteers that are looking to put their creativity and organizational skills to good use can help us plan and promote our events including the Over the Edge, Polar Plunge, Duck Derby, Shoot for Champions, Strike the R-Word, Toast to Titletown and Bob Busse Golf Classic.
Volunteer Coordinators:
Want to be more involved in helping to run a state game successfully? Dependable and enthusiastic individuals are needed to help us manage volunteers at one of several venues held during each of our state games. Volunteer coordinators help run a venue by assisting the SOGA staff register, place, orientate, and support the volunteers assigned to particular venues.
Games Management Teams:
This is a team of individuals devoted to planning, organizing and implementing each of the 5 state competitions. We need volunteers to organize and plan every aspect of the state competitions – from the Athlete Dance to each sporting venue.  Games management team members meet once a month for about four months preceding the competition. We have state competitions throughout Georgia so make sure to check the volunteer opportunities page to see if a state game is being held close to you.
Local Management Team Members:
The state is divided into 18 areas, with several local programs making-up each area.  We need volunteers who are interested in providing leadership through service on a Local Management Team.  These Teams organize and efficiently run the local or area Special Olympics program. From Public Relations to fundraising, there is a place for everyone!
Office Volunteers:
There is always a need for assistance around our state office in Atlanta.  Volunteers would work on mailings, phone calls, word processing, filing, data input and other general administrative tasks. We can use your help anytime during the hours and days of Monday through Friday from 8:00 am – 4:30 pm.
Awards Captain
Awards captains are in charge of awards at venues. This person manages general volunteers assigned to awards, makes sure awards are set up correctly, and makes sure awards run on time and smoothly. This person is part of the event's Games Organizing Committee (GOC).
Volunteer Fundraisers/Promoters
Special Olympics Georgia needs help promoting events throughout the community and help bringing in funds for events. There are various activities you can do throughout the year – find sponsors for Over the Edge, raise money to plunge for the Polar Plunge, or help secure in-kind donations.