Competing in Special Olympics Georgia since he was 8 years old, 39 year old Lewis Gordon is excited and ready for the 2018 State Indoor Winter Games. "I'll be playing floor hockey," explained Lewis to SOGA staff and Indoor Winter Games GOC members earlier in the season.
Floor hockey is just one of many sports Lewis has competed in over his 31 year career. This SOGA veteran has also competed in softball, bowling, bad minton, bocce, volleyball, basketball and flag football.
Lewis also helps out with Special Olympics Georgia outside of being an athlete. During the week, Lewis volunteers his time and help as an athlete intern at the SOGA State Office in Valdosta. There he helps organize items to prepare for competitions, helps with administrative tasks, and go out with staff members to raise awareness for Special Olympics Georgia.
Lewis has grown in every facet as a person through Special Olympics Georgia: he finds it easier to meet people, is able to accomplish any goal he sets, and spreads a hardworking, positive attitude to anyone he meets.
Lewis will be joined by his teammates from Special Olympics Georgia Valdosta Parks and Recreation at the State Indoor Winter Games January 12 – 14.
Infectious Personality Travels to SOGA State Indoor Winter Games
Described by everyone he meets as "remarkable," 21 year old Will Crain has been competing as an athlete with Special Olympics Georgia for over 10 years. Throughout his time as an athlete, the Hall County native has competed in alpine skiing, bowling, kayaking, soccer, bocce, and one of his favorite sports, basketball. In fact, Will will be competing at the 2018 SOGA State Indoor Winter Games in basketball with his teammates from Special Olympics Georgia Hall County Parks and Recreation.
Starting his career as a Special Olympics Georgia athlete in 2006, Will not only overcame obstacles of confidence, but also health obstacles. That same year, he had a liver transplant, only slowing him down for a brief period of time.
At this year's Winter Games, you will be able to easily spot Will. He will be the SOGA Hall County Parks and Recreation basketball player with an infectious personality, a strong attitude of determination, and a smile as big as his heart.
Henry County Athlete Finds Courage Through Competing With SOGA
Marnie Hornsby has participated as an athlete with Special Olympics Georgia for almost 15 years. Competing in sports such as softball, bocce, bowling, volleyball, equestrian, tennis and alpine skiing, Marnie is an all-star athlete. This year, she adds another sport to that list as she competes with Special Olympics Georgia Henry County Parks and Recreation in basketball at the 2018 State Winter Games. "I've been competing in basketball since 2008," said Marnie.
When she isn't going for the gold, Marnie likes scrapbooking, photography and singing. Marnie even has sang the national anthem at one of the Special Olympics Georgia State Games. "Because of Special Olympics I now feel like I can do anything I want to do," commented Marnie when as about playing new sports and taking on new challenges.
Marnie and her Special Olympics Georgia Henry County Parks and Recreation teammates are looking forward to Winter Games, January 12 – 14 in Cobb County, Georgia.
4 Year Equestrian Veteran Returns to Gainesville for 5th Horse Show
She puts her foot through the stirrup on the saddle and raises herself onto her horse. Up here, she knows no fear, no exclusion, no disability. She just knows competition, keeping her eye on the prize and her trust in herself and her horse.
Forsyth County athlete Maranda Way has the experience described about once a year as a competitor at the Special Olympics Georgia Horse Show. A Horse Show competitor for the past 4 years, Maranda is a veteran at this competition, and her experience shows through the medals won and the strong confidence and care Maranda displays with her horse.  In the past, she has competed in the English equitation and showmanship events, but decided to focus on three different events: dressage, Unified drill team and working trails. "I am so excited for the Horse Show," exclaimed Maranda. "It is so great to be able to go to Gainesville and see all of my friends and the other athletes."
Horse Show is not the only competition that Maranda travels to be part of. Maranda also goes to Cobb County to compete in bowling and powerlifting for the Indoor Winter Games and Emory University to compete in swimming at the Summer Games. This year, she even traveled to Warner Robins to participate in her first Masters Bowling Tournament.
Good luck, Maranda!
Dawson County Represented at State Horse Show
17 year old Jonathan Gross is an athlete with Special Olympics Georgia Dawson County. Competing since 2009, Jonathan has participated in his fair share of State and Area games. On a local level, Jonathan has competed in Area Fall Games, with his event being softball, Summer Games (in athletics) and a local bowling tournament.
On a State level, Jonathan competed in his first State Games in 2012, serving up strikes at the bowling event during SOGA's annual Indoor Winter Games. He has also previously participated in Fall Games, competing in bocce.
Horse Show, however, is a State Games that Jonathan not only loves, but continues to compete in year after year. "I started in 2014. I switched to Horse Show competing in showmanship, Unified drill team, Western horsemanship and working trails. I loved the events so much that I wanted to continue," commented Jonathan. And he has continued. This will be his fourth year returning to the Horse Show, as he goes for the gold in Horsemanship, Showmanship, Unified drill team, and working trails.
North Atlanta Native Ready to Bring Home the Gold at State Horse Show
You can usually spot her with a tennis racket in her hand. You may have even seen her this past May, taking over the tennis courts at Emory University with the rest of her Special Pops tennis teammates. This October, however, Allison Watry will be competing, but in an arena different than the tennis courts.
Allison will be one of the hundreds of athletes competing at this year's Horse Show in Gainesville, but is not new to this State Games. Like many others, Allison has returned year after year to compete in events such as English equitation, showmanship and working trails. In fact, Allison has been representing Special Olympics Georgia North Atlanta Equestrian team since 2008.
"This year, I am also competing in drill team," explained Allison when asked about her events. "I've competed in it before and have really liked it, so I'm continuing in that event."
The SOGA 2017 State Horse Show will take place on October 13 – 15 at Chicopee Woods Agricultural Center in Gainesville, Georgia.
Cobb County Athlete to Come to Fall Games After an All-Star Summer
"GUZ! GUZ! GUZ! GUZ!"
Antonio Guzman felt the energy sizzling in Atlanta's own Mercedes-Benz Stadium as he and the rest of his Cobb County teammates took the field on September 16.
Special Olympics Georgia Cobb County athletes and Unified Partners were selected this summer to participate in Special Olympics Georgia's and Atlanta United FC's unified soccer team. The team trained once a week throughout the summer with coaching from Atlanta United FC's own soccer stars. The team then went up against Orlando City's unified soccer team twice, ending the season with a 1-1 record. Antonio has a special role with the team. "I was selected as the team's All-Star representative," said the athlete. "I got to travel to Chicago and represent the east in the East vs. West All-Star game. It was so awesome and I made so many friends!"
Well, now that the soccer all-star has returned from an eventful season, he has his sights set on one event. "I'm competing in softball at this year's Fall Games," explained Antonio. He has competed in this sport for the past three years, and hopes to bring a medal back to Cobb County this year in the sport. Antonio has also competed in soccer during Summer Games and started his career as a Basketball player in 2013 at the Indoor Winter Games.
Hall County Athlete To Compete in Fall Games Before USA Games
Morgan McNeal has been participating in Special Olympics Georgia for one year, but when you watch her compete, you would think she was a veteran athlete.
The 17 year old started her career with SOGA at the 2016 Special Olympics Georgia Hall County Spring Games, joining her teammates in the soccer event. Morgan is no stranger to Fall Games, competing last year in bocce. This year she plans to compete in the same sport. Other sports she likes? Morgan has competed in events such as kayaking and basketball, and she will even be taking her talents to a national level. "I'm going to be at the Special Olympics USA Games playing basketball. I'm so excited and feel so honored to represent our state," commented Morgan.
Morgan's career with SOGA has been a whirlwind of competitions, developing new friendships, and being the confident, shining athlete she is. "I love Special Olympics because of the feelings it gives me," commented the bocce star, "I feel included. I feel confident, and I feel happy around people that support me and compete just like I do."
Seventeen Years of Softball
Steve Lyons is a regular face around Special Olympics Georgia. The Kay Center athlete has been competing with SOGA since 1999, when he first started is career at the Masters Bowling Tournament. "I started competing almost 20 years ago," reminisced Steve. "I always had fun bowling and thought I would give it a try with Special Olympics Georgia."
That "try at bowling" has now turned into competing in over 100 events at over 80 different Area, State, and Regional games. This year, Steve will be returning to Fall Games for his 17th year, joining his Kay Center teammates on the softball field. Steve recently gained a little extra practice at this sport when he participated in SOGA's annual "Battle of the Bats" competition, an invitational bringing together different softball teams from the southeast.
Softball and bowling aren't the only sports that you can find Steve competing in. "I've also played basketball, volleyball; I've done powerlifting and flag football. I even went to the Southeastern Winter Games this year and did alpine skiing," the athlete listed. "Special Olympics has given me so many opportunities to do things I would never have been able to do. I'm able to be seen for my talents," commented Steve.
Bocce Player Returns to Bowling
Tyler Hughey first started competing on the state level with Special Olympics Georgia 16 years ago. His first competition? Tyler first competed in the State Horse Show. Since then, the gold medalist has been no stranger to State Games, competing in events such as bocce, swimming, tennis, alpine skiing, sailing, skating, and of course, bowling.
Though his parents previously have helped at Fall Games, specifically the bocce event, Tyler is well-known at the Masters Bowling Tournament. He has previously competed in the bowling singles event, and he will compete in the Unified bowling team event for the second year in a row. Tyler would not be able to compete in so many different sports without the confidence he has developed from being part of Special Olympics Georgia.
"I've got the confidence to do all kinds of things," commented the SOGA Global Messenger. "Special Olympics has made me who I am now."
Cobb County Athlete Competes in Her First Masters Bowling Tournament
38 year old Jessica Griffith has just one state games under her belt, but will acquire her second one soon. Earlier this year, she competed in the 2017 State Summer Games, showing off her athletic talents in aquatics. Having swam in the 50 Meter Freestyle, 100 Meter Freestyle and 25 Meter Freestyle Relay events, Jessica is excited for a new state games, and a new sport.
The athlete, who shines with her bright smile, positive energy and great example of sportsmanship will represent Special Olympics Georgia Cobb County at the 2017 State Masters Bowling Tournament in August in Warner Robins. Participating in the bowling singles event, she is hoping to bring a gold medal back up to the North Georgia area.
Honorary ESPY Winner to Compete in Upcoming Masters Bowling Tournament
Founder Eunice Kennedy Shriver wasn't the only member of the Special Olympics family to be honored by the 2017 ESPY team. One extraordinary Special Olympics Georgia athlete also received praise and an accolade from the ESPYs.
Hall County's own Katy Wilson was surprised by SOGA staff and WSB-TV Channel 2 with an honorary ESPY. A long-time athlete, Katy has competed on local, state, national and international levels and was an International Global Messenger for Special Olympics International. Katy was selected by Special Olympics International and the ESPY team for this prestigious award for her championship performances in gymnastics and her heard and dedication to the Special Olympics mission.
In additional to being a gold medalist in gymnastics, Katy is also an elite bowler. From August 18 – 20, Katy will compete with over 1,500 Special Olympics Georgia adult athletes in hopes of being named the state's top bowler and bringing back a gold medal to Hall County. "I'm so happy to be part of Special Olympics Georgia and am so excited for all of the competitions. Us, the athletes, are able to be friends, cheer each other on, and show how hard we work," commented Katy.
The Face of Fearlessness
The 2017 State Summer Games will be a big competition for Special Olympics Georgia Cherokee County athlete Kayla Lingefelt. "This year at the Summer Games, I not only get to participate in Opening Ceremony, but I am competing in a brand new sport. I am so excited," exclaimed Kayla when asked why 2017 was such a  big year for her as an athlete.
Kayla is one of five athletes that has been selected to participate in Special Olympics Georgia's Torch Run at Opening Ceremony. At each game, five athletes and five members of the Law Enforcement Torch Run, a volunteer group of Georgia law enforcement officers, bring the "Flame of Hope" into each Opening Ceremony and light the cauldron. This year, Kayla will be leading the torch run with MARTA police officer, Officer Beth Walsh.  "Kayla is so excited for this opportunity," commented Kayla's mother. "We could not be more proud of her."
After Opening Ceremony, Kayla will set her sights on the competition she has been preparing for the past eight weeks. That competition is her first-ever volleyball game at a State Games. The 25-year old athlete started her career 17 years ago as a swimmer at the 2000 State Summer Games. She has swam in many different events including the 25 meter freestyle, the 50 meter freestyle and as many of the relays as she could participate in. "I love swimming," Kayla said. "I have competed in swimming since I started, but I want to try something new."
"Kayla always looks to try something new and put herself outside of her comfort zone," her mother said. "In other State Games, Kayla has tried basketball, bocce and bowling, which are quite a big difference from swimming." Volleyball is no exception.
Kayla's mother believes Kayla has gained the bravery and confidence to try new sports and push herself outside of her comfort zone from her time with Special Olympics Georgia. "I don't think she would be as brave as she is without all of the lessons and experiences Special Olympics Georgia has given her. Whether it is carrying the banner, racing through the pool or making a shot in basketball, Special Olympics Georgia gives her opportunities to display her strengths, build her confidence and not focus on her disability."
With her bravery, confidence and training, Kayla is very optimistic about her competition at the 2017 State Summer Games. "We have worked very hard, and I think we have a great chance of doing well. I know I am going to be a great player for our volleyball team!"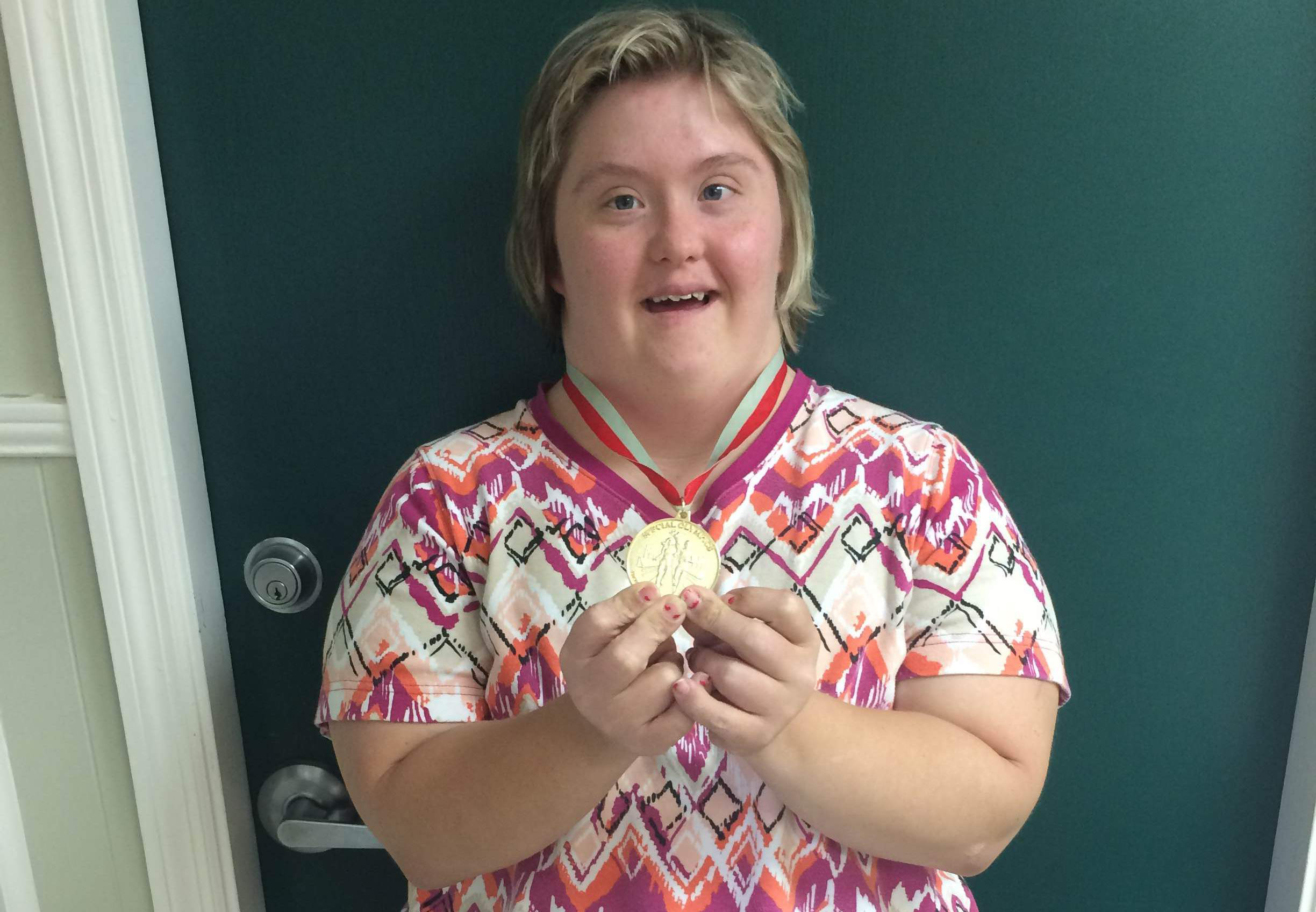 Competition and Compassion
it was eight years ago when Special Olympics Georgia Forsyth County was introduced to Britt Hall: Special Olympics Georgia athlete, Georgia Aquarium employee and avid Georgia sports fan. "The first sport I started competing in with Special Olympics was softball. I was with the Forsyth Golden Gloves, and we were a pretty good team," commented Britt as he reflected on his first state games.
Since then, the multi-sport athlete has competed in much more than softball. Britt has gone on to compete and excel in bocce, basketball, athletics, table tennis, volleyball and flag football during his Special Olympics Georgia career. "Athletics has always been one of his favorite sports to compete in, " said Britt's father, Jack Hall. "He likes the different competitions within athletics, especially the dash races. The 100 meter dash and the 200 meter dash are really great to see him compete and grow in."
"I like athletics, but I am excited for flag football this year. We are going to play just as well as the Falcons," Britt enthusiastically interjected. This year, Britt and his teammates will be returning to Emory University as the Special Olympics Georgia Forsyth County mea Machine, one of two flag football teams from Special Olympics Georgia Forsyth County. Despite the word "mean" being in their name, Britt is assuring in that their focus is not to be mean to their competitors. "We want to win the gold, but we want to be nice to the other teams and encourage them. They are our friends and have worked just as hard as we have for the state competitions," Britt explained.
While athletes are encouraged to try their very best and go for the gold, Special Olympics Georgia focuses on the lessons and ideals of sportsmanship and friendship during competitions. "Special Olympics Georgia not only brings out the inner-athlete with many of these children and adults, but gives them the reassurance and sense of community to not look at their competitors as individuals they have to beat, but as friends," explained Jack. "Britt has always been a good team player, but he is also very competitive. Special Olympics Georgia has helped him gain confidence as an athlete, while showing him how to cheer on his teammates and the opposing athletes."
"I've learned a lot from being in Special Olympics Georgia. I think there is a lesson for everyone who competes, volunteers, or watches the Summer Games this year," said Britt.
Two Wishes Granted
"The encouragement and motivation he has because of his involvement with Special Olympics Georgia is truly inspiring. We never imagined he would reach the milestones he has," reflected Verlyn Tamlin, mother of Special Olympics Georgia athlete and returning athletics star, Maurice Tamlin.
Maurice, an athlete with Special Olympics Georgia Columbus Parks and Recreation, has had a road of many obstacles he has overcome and many triumphs he has achieved. "Shortly after birth, Maurice became a victim of Shaken Baby Syndrome (SBS) through a babysitter. This lead to him having a massive Traumatic Brain Injury, causing sever brain damage," Maurice's mother emotionally explained. Results of the brain damage Maurice endured from SBS included sever cognitive and nerve damage, permanent blindness, and a stunt in social, motor and cognitive skills.
Though his skills were limited, Maurice's personality was not. "As he got older, Maurice showed a passion and a high level of enthusiasm for sports. He wanted to be active and play sports like everyone else. That was his strongest wish," said Verlyn. And when Maurice became an athlete of Special Olympics Georgia, his wish was granted. Maurice has become a champion in a variety of sports including basketball, bicycling, bowling, swimming, and of course, athletics, which he will be competing in at the 2017 State Summer Games. "He has consistently gotten stronger as an athlete and a person," commented Verlyn. "He has placed in numerous top finishes and has earned more medals and accommodations that we can even count!"
Maurice has gained much more than medals, ribbons and trophies. Through his career with Special Olympics Georgia, Maurice has been able to improve his physical mobility, his communications skills, his interactions with others, and ultimately, his view of himself and his abilities. "Being an athlete has increased his sense of belonging. Special Olympics has uplifted my son's confidence, self-esteem and self-worth," said Verlyn as she exuded happiness and a sense of pride for her son. "Special Olympics Georgia has given life to our family, granting not only my son's wish to be an athlete, but mine as well. Special Olympics Georgia allowed my son to find a place where he can feel included, happy, and live his best life."
Two SOGA Athletes To Represent Team USA in Austria at World Winter Games
On March 14, athletes Evan Hodge and Deon Grant will embark on a journey full of universal competition and community: the 2017 World Winter Games in Graz/Schladming, Austria.
Evan, an athlete from Special Olympics Georgia Cobb County, will be representing the United States as he competes in alpine skiing. Evan has participated in Special Olympics for over 5 years in a myriad of sports, including alpine skiing, bocce and kayaking. Though Evan is a familiar face at State Games and at the Southeast Snowboarding Competition, this will be his first World Games with Special Olympics. "I am nervous, but excited to represent SOGA and the United States at the World Winter Games! I hope I do well," exclaimed Evan when asked about the upcoming competition.
Alongside Evan is Deon Grant, a 10-year veteran athletes from Special Olympics Georgia Colquitt County Schools. Deon has been selected to be part of Special Olympics USA as a representative in ice speed skating. Like Evan, this will be Deon's first trip to a World Games with Special Olympics and is excited for the opportunity. "I'm excited to show sportsmanship to the other athletes and cheer them on! I want everyone to do well," said Deon.
The 2017 World Winter games will not only include sportsmanship and competition from over 2,700 athletes from around the world, but will include performances by multi-Grammy award-winning Jason Mraz and America's Got Talent winner Grace VanderWaal. The largest event for Special Olympics will also be covered by Special Olympics International partner, ESPN. This groundbreaking coverage will begin live from Opening Ceremony on March 18 and will include viewer stories, competition showcases, athlete interviews and so much more throughout the event. Viewers will be able to be part of the event from the comfort of their homes through ESPN, ESPN.com and the ESPN app.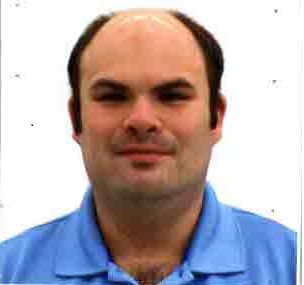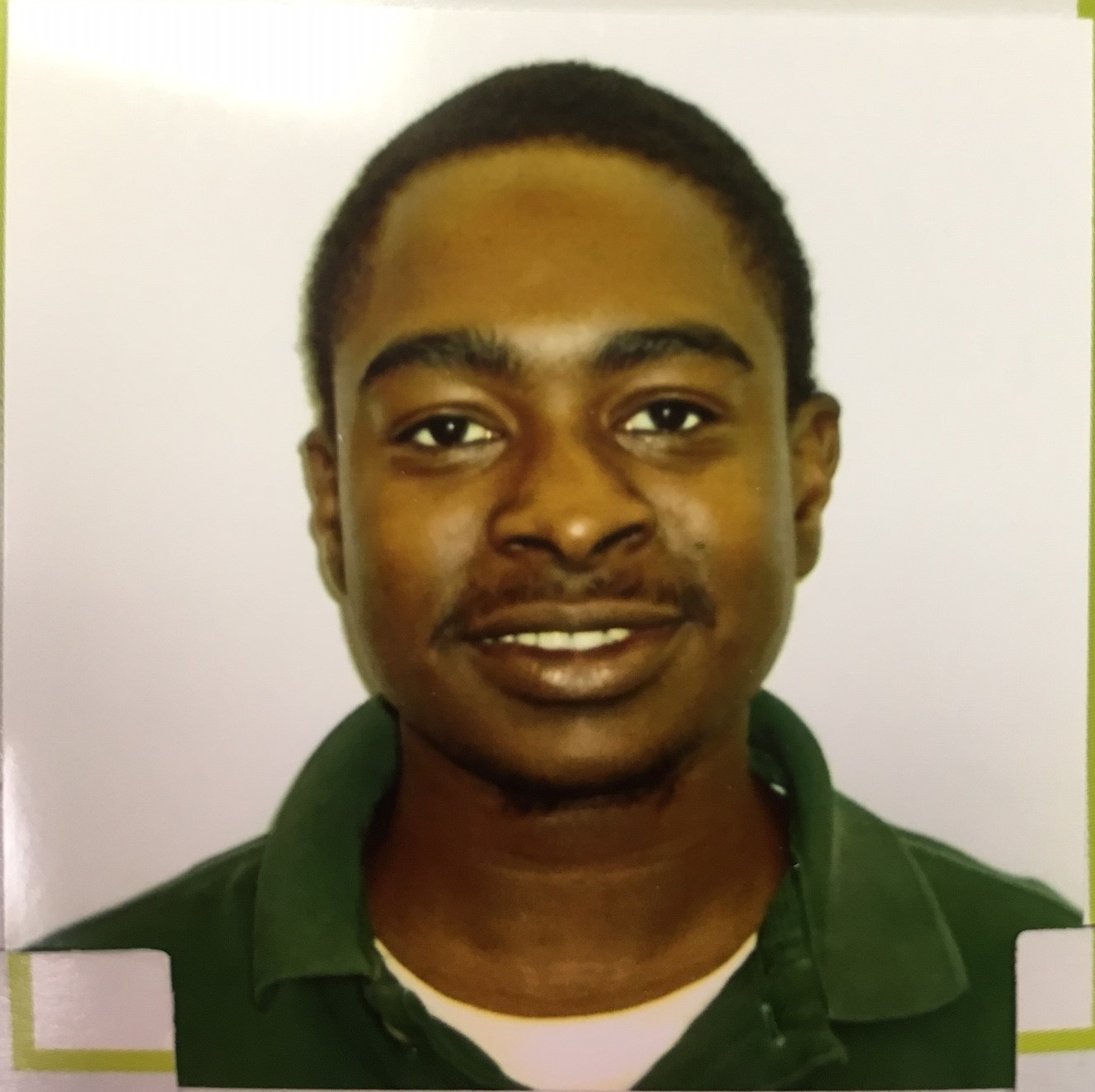 Sisters To Compete Side by Side at State Winter Games
Angela and Michelle Pratt are athletes from Special Olympics Cobb County that have participated in Special Olympics for quite sometime. Angela, 30 years old, has been going for the gold for 10 years, starting with softball at the State Fall Games back in 2007. Michelle, 25 years old, joined Special Olympics Georgia in 2011 and is just 4 years shy of her 10 year anniversary, but still a seasoned veteran.
The sisters have competed together with Special Olympics Cobb County for many of the State and Southeast Games in familiar sports such as softball, swimming, athletics and bowling. This year, the Pratt sisters are competing together, but in a sport new to them and new to Special Olympics Cobb County: floor hockey. "We are excited for floor hockey, and just wanted to try something different," answered Michelle when asked why they chose to compete in floor hockey this year.
Special Olympics Cobb County has teamed up with other Special Olympics Georgia teams across the state in preparation for this new event. "We have learned so much and we are ready to compete," Michelle and Angela exclaimed when asked about the State Winter Games. "The other Special Olympics teams have taught us so much and are excited for us. That's what Special Olympics Georgia is about. Not winning, but being friends and helping each other."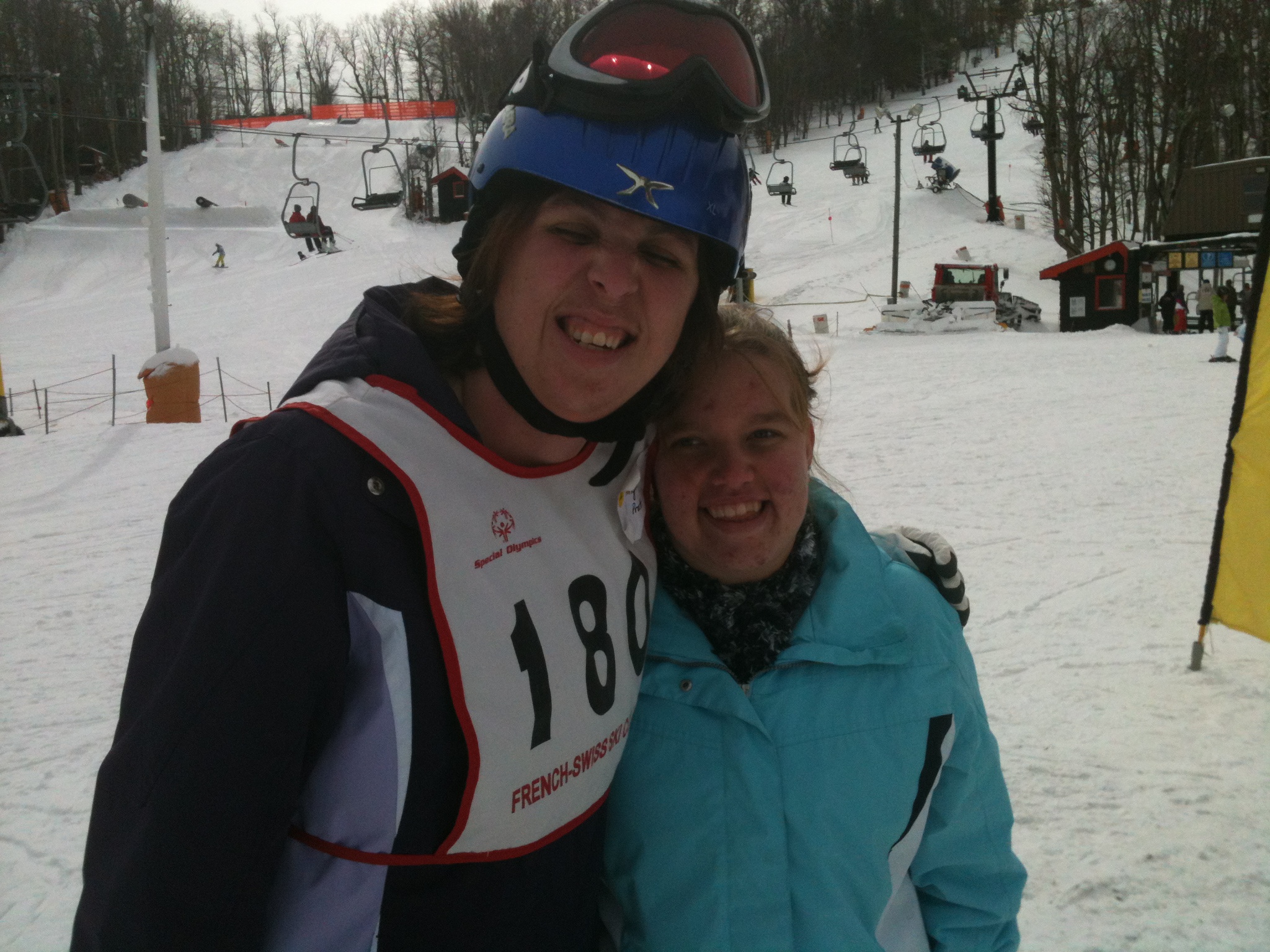 World Games Representative Will Lead and Compete With Athletes at State Winter Games
For the 2017 State Winter Games, the Grand Marshal is not only a celebrity among Special Olympics Georgia athletes, he is also one of them.
On Friday, January 20, Evan Hodge will lead athletes in the Athlete Parade and in the Athletes' Oath as he is honor with the role of Grand Marshal for the weekend's competition.
Evan is a native of Cobb County, where the State Winter Games are held, and will not only be assuming the role of Grand Marshal, but will then transition over to the role of athlete and teammate as he competes in Floor Hockey with Special Olympics Georgia Cobb County. "Evan enjoys competing at Winter Games and is excited for this honor as Grand Marshal," commented Marty Hodge, Evan's mother.
Evan will also be one of two athletes from Special Olympics Georgia representing the United States at the World Winter Games in March in Austria, competing in Alpine Skiing.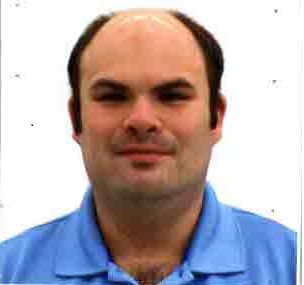 Nothing But Sunshine, Smiles and Sportsmanship at the State Horse Show
When athlete Carson Mooney is not mentoring and helping other athletes with training for the State Horse Show, she is going for and winning the gold.
The Equestrian veteran returned to her third year competing at the State Horse Show, participating in Equestrian showmanship, horsemanship and equitation, and happily winning the Gold in this year's Equestrian Showmanship competition. "This was Carson's first year as an intermediate competitor, so we were thrilled to see her hard work and training pay off," commented Carson's mother, Lee Ann.
Like moth athletes who competed at the Special Olympics Georgia State Games though, winning was not Carson's focus. "She loves the dance, but she also loves just being able to compete," answered Lee Ann when asked about her daughter's favorite part of this year's Horse Show. "All of the athletes love coming together, cheering each other on and celebrating each athlete's accomplishments. They show what true sportsmanship should look like and have fun doing it."
Athlete Celebrates Birthday and Victory at Fall Games
For athlete CJ Hranek, Saturday, October 8th was a day of multiple celebrations. CJ not only celebrated his birthday, but also celebrated the incredible effort, teamwork and competition displayed at this year's Fall Games.
CJ and his Unified Partner, who also happens to be his father, shined as they competed in golf, ultimately winning the Silver Medal. "I ad a lot of fun playing with my dad and getting to play alongside the other teams," CJ answered when asked what he enjoyed most about this year's Fall Games. "He and I played really well and it was great to celebrate our hard work and my birthday!"
Second Year at SOGA 2016 State Horse Show
There are a few requirements to be a registered competitor with Special Olympics Georgia. First, the individual must be deemed to have an intellectual disability by an agency or medical professional. Second, the individual must be a resident of the state of Georgia; third is that the person must be at least 8 years of age. Finally, the athlete must have the desire and passion to be part of SOGA.
9 year old, and two-time competitor Savanna Alkire meets every single one of those requirements. Starting at the age of just 8 years old, Savanna competed in her very first state game, the State Horse Show, just last year. Hailing from Forsyth County and representing Special Olympics Georgia, Forsyth County with the Iron Horse Equestrian Team, Savanna competed in English Equitation, Equestrian Showmanship, the Unified 4-Person Drill Team, and Working Trails with horses Mickey and Amelia.
This year, the young champion will be going for the Gold in the same competitions during the 2016 State Horse Show. "She is excited to return and compete again," said Savanna's coach and mother, Cammie Alkine. "She absolutely loves working with the horses and being with her friends and teammates. It is great for her to be apart of this!"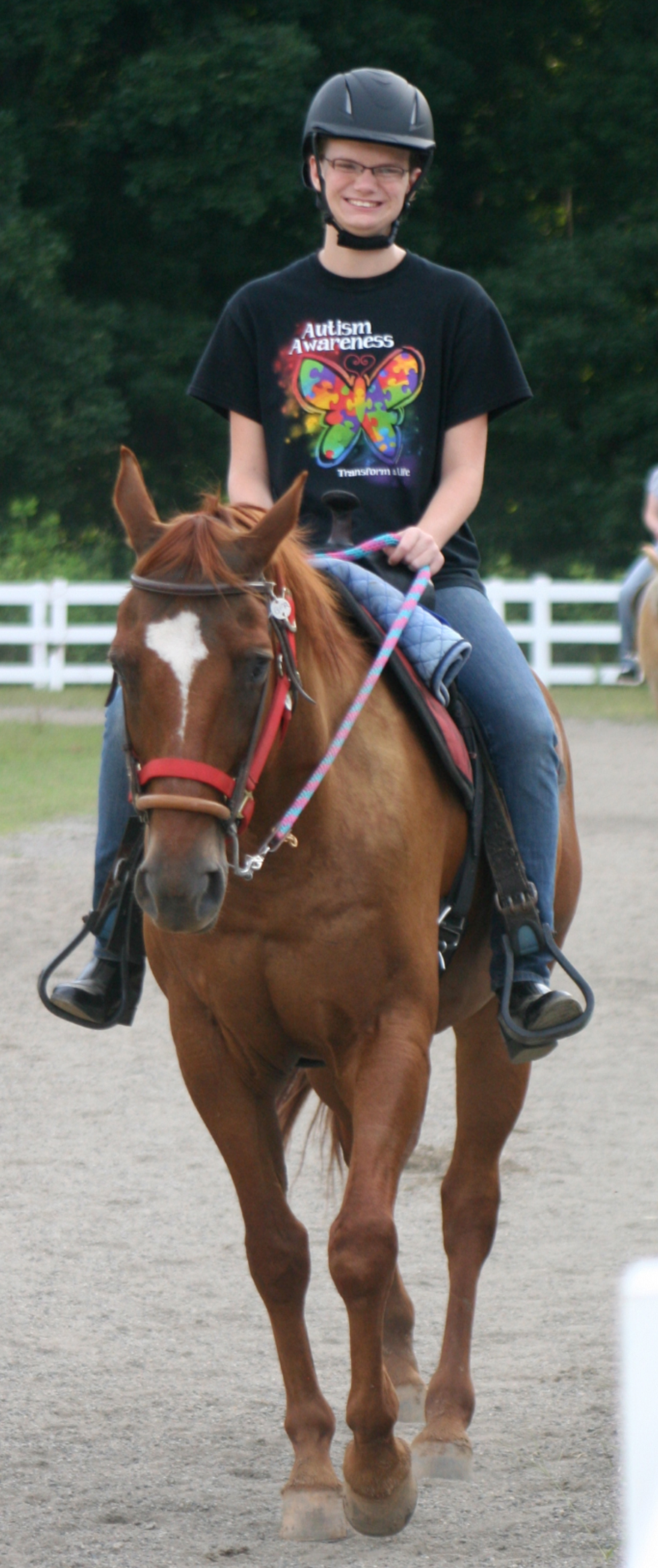 Forsyth County Native Gallops Into Her Fourth State Horse Show
Competing in the State Horse Show since 2013, Carson Mooney is a seasoned veteran. "It was back in 2013 when Carson and her teammates began coming up to Gainesville to ride horses," comments Carson's mother. "3 months later, Carson competed in her very first State Horse Show and has competed ever since."
With her horse, Bo, by her side, Carson has not only received awards and accolades, but has received self-confidence, friendship and lifelong skills from her years of competition. "Working with horses and being part of Special Olympics Georgia has really helped Carson step out of her comfort zone. It has taught her to pay attention to everyone and encourages her to work with others as a team," her mother continued to share.
In addition to competing, Carson serves as a mentor to first-time Horse Show participants. "It can be scary and some of the athletes get nervous around the horses," Carson explained. "I try to help tem feel less scared and safe around the horses."
This year, Carson will be competing at the 2016 State Horse Show in the Trail, Equestrian Showmanship and Equestrian Horsemanship competitions. "She is excited to compete again and see all of the athletes she has mentored. She listens, empathizes and is an athlete that cares about others and her community," said her mom.
Cherokee County Athlete Competes at First Ever Fall Games
13 year old Nicole Fox has been a competitor with Special Olympics Georgia, Cherokee County for 3 years now.  Her very first experience in Special Olympics Georgia was competing in the 2013 State Summer Games in Tennis. "She loved it so much, we decided to continue," commented Nicole's mom.
3 years later, Nicole is a well-known face around the State Summer Games and State Winter Games. Finding her passion with swimming and basketball, in 2014 Nicole decided to start competing in Aquatics, specifically in the backstroke, freestyle and freestyle relay, and competing at the State Indoor Winter Games in basketball.
2016 is a brand new year, and Nicole decided to add another sport to her already impressive athletic resume. "She decided she wanted to compete at Fall Games this year and wanted to be part of softball," her mom, who has also been a coach at Fall Games, continued. Just like basketball and swimming, softball gives Nicole a sense of being an important part of a team, which is not only an important feeling to her, but to all athletes that are a part of Special Olympics Georgia. Nicole's mom ended with "we are excited for the Games and will be cheering for her and Cherokee County!"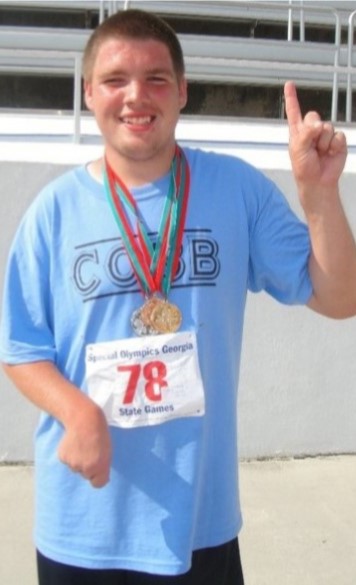 Cobb County Athlete Plays Unified with a Special Partner
With over 200 medals, athlete CJ Hranek is no stranger to success on the field, and as a member of the Special Olympics Georgia, Cobb County. Hranek is also no stranger to the inclusion and feeling of community that athletes of Special Olympics Georgia receive. However, the multi-sport superstar did not always feel that way.
CJ is an athlete that uses non-verbal communication to talk with other athletes, coaches and members of the Special Olympics Georgia community. This made life before Special Olympics Georgia difficult. "Before joining Special Olympics, CJ never got the chance to do things the other kids did. He wasn't included," said CJ's mother, Becky Hranek. This left CJ with feelings of uncertainty and doubt when leaving his house or his comfort zone.
Then, a classmate introduced CJ to an organization where individuals just like him could participate in activities and in sports that everyone else seemed to be able to do. "When he was 9 or 10 years old, a student at his school participated in Special Olympics. We asked his physical therapist about the organization and we were encouraged to join," Becky reminisced. CJ felt hopeful as he joined, starting with bowling but finding his groove with track and field.
10 years later, the Hranek family decided to become more involved in the organization that had given their son a reason to get out of the house, and a community where he is surrounded by friends and mentors that are just like him. "He loved competing so much we decided to be coaches and have been coaching CJ and his teammates in track and field ever since," continued Becky.
"This year, I am competing in golf," CJ, the 20-year veteran athlete texted when asked about the 2016 State Fall Games. "I won't be there Friday night, but I am competing with my dad Saturday." When asked what his favorite thing was about the upcoming games, CJ simply continued to text about his excitement for competing with his dad, who is a Unified Partner in golf. "I hope we win the gold together!"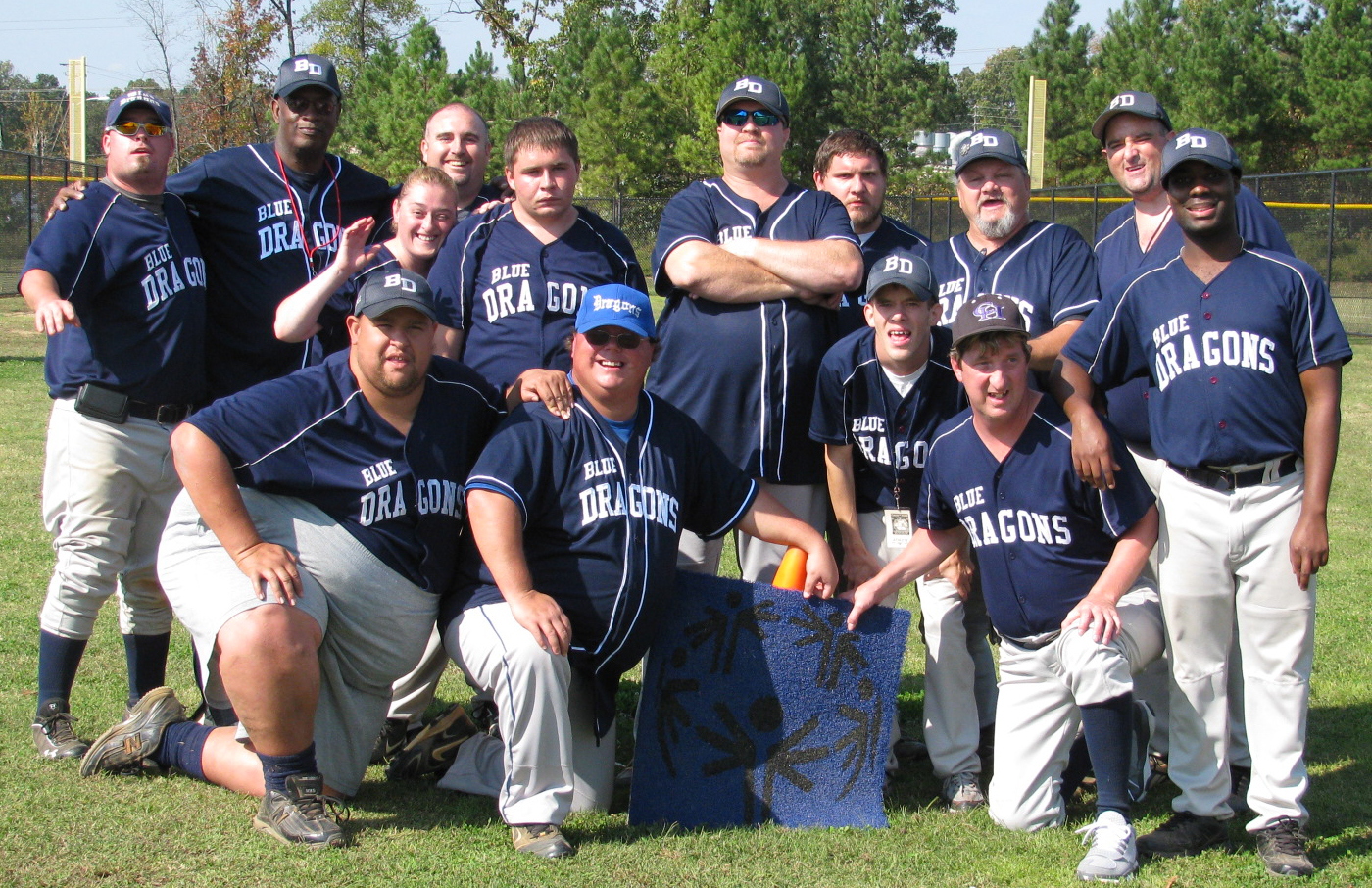 Drunk Driver Survivor Prepares for Masters Bowling
Douglas County athlete and State Masters Bowling participant, Marcus Baxley, remembers a specific moment in his life all too well. The month was October of 2003. It was the night of his first date after his divorce. "I was heading home from the date on my motorcycle when I was hit from the rear by a drunk driver. My helmet slung off, and my head hit the curb," Marcus recalled. The bone in his skill had cracked upon impact, leaving Marcus not only I coma for over a year, but with permanent neurological damage.
Upon awaking in his own house, Marcus was bed-ridden and mute for almost a whole year. "The Shepherd Center first worked with me on talking, while my in-home nurse worked to help me learn how to walk again."
"The wreck was a life changing experience," commented Marcus' mother. "We experienced many setbacks. Marcus had a lot of brain surgeries. When he woke up was the toughest because I didn't know if my son was there. He didn't communicate and was quadriplegic."
Five years after the tragic accident, Marcus' mother learned about a local bowling league affiliated with Special Olympics Georgia, as she was looking for additional methods to help Marcus to continue to learn and develop not only socially, cognitively and physically, but to also learn and develop self-confidence and persistence. She discovered Marcus qualified to join and he connected with his inner athlete, starting training in bocce, softball and of course, bowling.
Though Marcus is a strong athlete in softball, his favorite sport, he is also a fierce competitor in the bowling lanes. "I bowled before my accident and I remember having a high of 198. Now I have a personal high of 211. I can't wait for the competition in August!"
Marcus' training and competition has helped him grow leaps and bounds, reaching what some would say "miraculous" levels of cognitive, social and physical abilities after an accident so severe. "The doctors have never seen a case like his; to be as injured as he was and to make the recovery he has is incredible. Special Olympics Georgia has helped tremendously with getting him to his best quality of life. It gave him the drive to get better and the encouragement to work harder," Marcus' mother continued.
While October of 2003 is a date that Marcus Baxley will never forget, his experiences as an athlete for Special Olympics Georgia are even stronger memories for the gold medalist.  "Special Olympics is family for me. I just want to help the people that have helped me, and it's good for me to be there for them."
Marcus is pictured above, in the middle with crossed arms, with his softball team.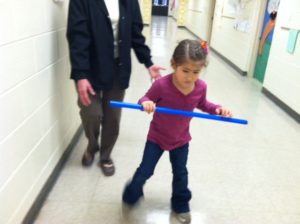 A Young Athlete, A Special Olympian
In 2011, 7 year old Joselyn Coleman was unable to do something the majority of individuals do without even thinking: walk. Diagnosed with chromosomal abnormalities, a congenital heart defect and a developmental delay, it was unclear if walking was ever in Joselyn's future.
Through Special Olympics Georgia's Young Athletes program, a sports play program for young children that fosters physical, cognitive and social development, a future of walking became brighter for Joselyn. Physical Therapists from young Athletes spent time with Joselyn, determined to walk. By Christmas, she was able to walk with the help of holding a hand and soon after, Joselyn was able to walk all on her own.
Joselyn recently received the Norah McGraw Award from Coweta County Special Olympics.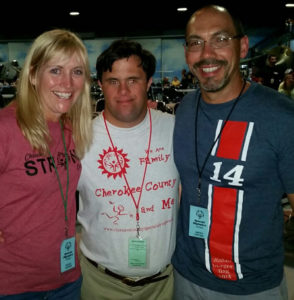 Every Medal and Experience is Golden for Cherokee County Olympian
30 year old Josh Anderson is a Cherokee County Special Olympian. Diagnosed with Down Syndrome, Josh has competed in Special Olympics Georgia for 20 years, and he is currently a gold medalist in Aquatics, though with his compassion and enthusiasm, he believes every medal and every ribbon is top prize. "To him, every medal is a Gold Medal," says Cheryl White, Josh's mother and supporter of Special Olympics Georgia.
The medals and ribbons aren't what Josh and Cheryl cherish the most. What they love are the relationships and everlasting friendships that are built through Special Olympics Georgia. During his time as an athlete, Josh has learned how to be compassionate with his friends and has gained the confidence to be himself, making friends not only in Special Olympics, but in school and the community as well. "It's so nice to see him interact with his friends. It's a special experience. There is nothing like it," concluded Cheryl.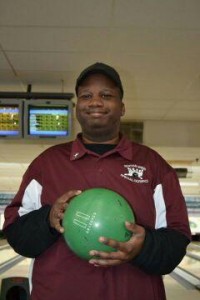 Macon High Schooler Welcomed by Athletes, Joins, and Participates in Sports for First Time
Jon Paul Thomas joined Special Olympics when he was in high school. He was labeled "high functioning" and had good grades in regular education classes. Because of his grades, he wore the gold Beta Club cord at graduation.
But, Jon Paul had no interest in social skills, said his Mom Liz Ferguson.  At home, he was a total couch potato and was only interested in video games.
Before Special Olympics, he had not participated in sports before. He made fast friends with athletes who welcomed him into their group. Soon, Liz was shocked and amazed to hear her son initiate contact with his teammates after a few months, and later with the coaches. He became very good at bowling, and then competed in tennis, bocce, basketball, softball, and floor hockey.
He doesn't really care about medals. More so, he loves the traveling, staying in hotels, and hanging out with the different Special Olympic groups.  Jon Paul has also given speeches to parents at a number of seminars and would love to become a Special Olympics Global Messenger.
He is a wonderful artist, and has done flyers for local tournaments, as well as help design shirts. "I love the wonderful positive changes Special Olympics has made in his life," his Mom said.
Jon Paul was also named SOGA's Athlete of the Month for October.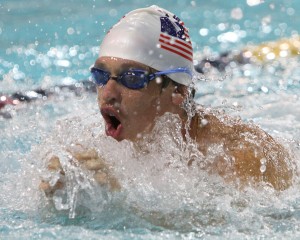 August's Athlete of the Month: Clay Doub
Valdosta Athlete Clay Doub shines a light throughout the community by showing how you can overcome obstacles and succeed.
Born with Fragile X Syndrome, the lifelong athlete has influenced and befriended so many because of his sense of  team  and  strong support network of family and friends. These factors have helped him develop socially, stay determined, and have respect for others.
Some of his accomplishments are:
-In 1995, he received the prestigious Naismith Award for Special Olympics.
-He received the 1998 Achievement Award from the Valdosta Mayor's Council for Persons with Disabilities.
-In 2006, he represented Team Georgia at the Special Olympics USA Games, where he won two gold medals in the breaststroke and four-person relay.
-At the World Games in 2009, Clay came home with the bronze in floor hockey.
Through it all, Clay continues to be a wonderful example of how SOGA athletes can continue pushing forward with a good attitude and a determined spirit.
Today, Clay lives independently and is a custodian with the Valdosta-Lowndes County Parks and Recreation Authority and remains an active athlete. Congratulations, Clay, for being Athlete of the Month.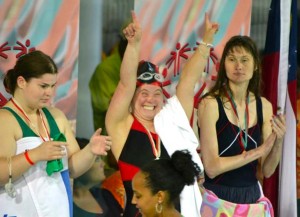 July's Athlete of the Month: Suzanne Goossens
You can look to Suzanne Goossens for an example of what Project Unify and Special Olympics truly means.
She swims with the Extra Special People Pirhanas, but when she isn't competing, she encourages her friends to work harder and improve each day. The fearless attitude is a testament to the dedication the Oconee/Clarke County athlete has given through Special Olympics over the past 10 years, in not only sports, but by encouraging her friends with and without intellectual disabilities.
Suzanne is enthusiastic about life and loves learning new things! Some of Suzanne's favorite things to do (besides swimming) include water skiing, boating, and hanging out at her lake house with her family.
She also enjoys zip lining, skydiving, and wall climbing. This May, Suzanne won a gold medal at State Summer Games.
Congratulations to Suzanne for winning the gold and being named Athlete of the Month!
June's Athlete of the Month: Karen Busby
Karen Busby is June's athlete of the month.
She began participating in Special Olympics in 2009 and recently joined one of SOGA's newer agencies: Gwinnett Special Forces. Karen, 62, has participated in bocce (unified and traditional teams) bowling, and basketball team skills.
Last weekend, she participated in the 100 meter race walk and shot put at State Summer Games. Throughout her career, Karen has won many medals and honors with Gwinnett Masters and Gwinnett Special Forces. And she improves every year.
During the past two years alone, she has won 1 gold medal, 7 silver medals, and 1 bronze medal. In fact, for the past two years, she has gotten a better bocce score than her Special Olympics coach who sometimes competes with her, earning her bragging rights throughout the fall bocce season.
Karen is very active with her church and family; lives with her daughter
and son-in-law (June and Dwayne) and 3 granddaughters; and enjoys gardening, walking, and retro TV shows.
We are very proud of her accomplishments, and it is a great pleasure to honor her as athlete of the month.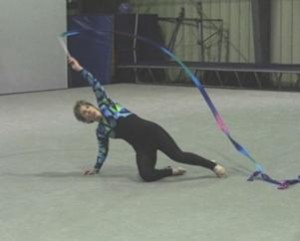 May's Athlete of the Month: Elena Weaver
Born with devastating multiple birth defects, there was little hope for a long and normal life. But her  family fought for her and she began to respond positively to surgeries and therapies. As she grew stronger and celebrated more birthdays, her parents discovered Elena Weaver had dreams about what she would like to do and accomplish in her life!
One dream was to become a gymnast. Elena found a gym program and her family helped out at the gym for lessons. Eventually her dad became her certified Special Olympics coach and her mom became the photographer, cheerleader, and costume maker. She competed in artistic gymnastics and became a state champion with the Level 4 status.
Now she has learned and competes in rhythmic gymnastics – achieving Level 4 status as a state, national and world champion. She has led her family throughout the U.S.A. and to other countries for competitions.
As Elena gained strength and accomplishments, her family became stronger, more united and more committed to helping other families believe in their exceptional children.
Congratulations, Elena, for being named Athlete of the Month!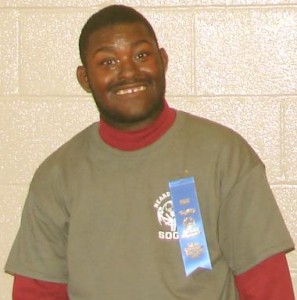 April's Athlete of the Month: Christopher "Buck" Dunson
You could easily find Christopher "Buck" Dunson leading his Heard County teammates in stretches before competitions. He motivates his team and encourages others, says the county's local coordinator Cynthia Spearman.
"Everybody knows Buck. If you don't, you are missing a treat," Cynthia said. "He is an enthusiastic athlete who is well known at Heard High School."
Buck was recently named Loco Rio's Player of the Week in the Herald Citizen.
At Winter Games, Buck won first place in his division at the basketball skills competition scoring 14 points in perimeter shooting, 21 points in rebounding, and 26 points in the dribbling obstacle course; which totaled 61 points. We look forward to seeing you play again, Buck! Congratulations to Buck for being April's Athlete of the Month.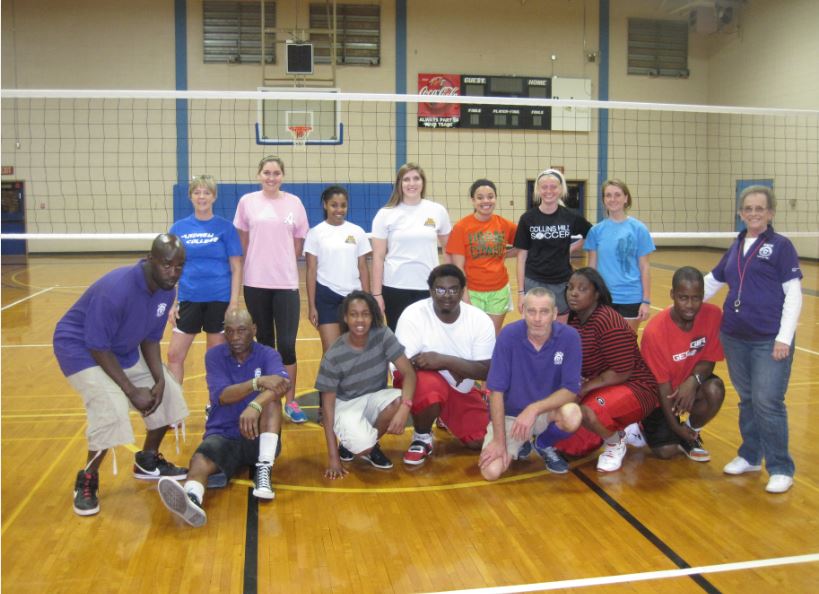 Albany Recreation & Parks Special Olympics Competes at Andrew College
On Saturday, March 22, the Albany Recreation & Parks Special Olympics volleyball team traveled to Andrew College in Cuthbert to train with the Andrew Fighting Tigers volleyball team.  Coach Donna Rountree had them partner with someone from the opposite team for practice and drills.  They played three games, which Andrew College won two games to one.  Everyone had a great time and the teams had lunch in the Andrew College dining hall after practice.
2014 Capital Hill Day – Washington, D.C.
Special Olympics Georgia athlete and global messenger Lewis Gordon and Special Olympics Georgia Regional Manager Zach Hageman visited Washington, D.C. on March 12th, 2014 for Capital Hill Day.  The picture on the left is Lewis and Zach standing in front of the Capital building.  The picture on the right is Lewis and Zach meeting with Congressman Austin Scott from Tifton, Georgia.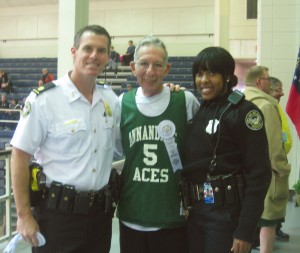 70-year-old, Black Belt Lenny Greenblatt Finds Time to Help Others
Lenny Greenblatt, turning 70 in May, competes in  every sport that is offered at Annandale Village: basketball, bocce, volleyball, softball, cycling, and athletics. Aside from sports, he's quite busy serving others.
"He not only competes in these sports, but is also one of our top athletes," said recreation instructor Adrienne Clay. "Lenny is a great teammate and is always encouraging his fellow athletes."
He offers a helping hand around campus whether it is visiting the local day program or the local nursing home. Lenny is not only admired at Annandale, but also in the community of Suwanee. As Lenny has  dreamed of being a police officer, it was easy for a friendship to be developed with the local police department. They often make visits to Annandale in Lenny's honor.
Each week, you'll find the black belt practicing Tang Soo Do. And visitors of Annandale Village will find Lenny among the first to greet them with a handshake and a smile.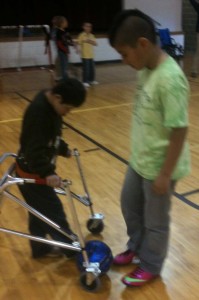 Army Crawling to Stroller to Walker to Walking Alone for Dalton Athlete
-By Dalton Coach Laura Ogas
I remember Omar and I strolling through the school, and a second grade class came running into the hallway to cheer him on!  The commotion brought out the other second grade classes, too.They all know him, love him and support him daily.
Omar Ramos is a second grade student at Antioch Elementary. He has Down Syndrome and significant vision loss.
When he entered school, he was not able to walk. He would move around the classroom by "army crawling" on his belly. Other than floor/play time, he spent most of his academic day in a stroller or wheelchair.
He has been walking with the assistance of a walker for the last two years, but still spent a considerable amount of time in his stroller.
In our local Special Olympics competitions, Omar has progressed from participating in Level A Athletics. Last year, he competed in the Soccer Skills.This year, based on his progress and current ability level, he will play as a member of a unified soccer team. He is now able to walk with and without his walker (with minimal assistance) and he absolutely LOVES to kick the soccer ball all over the court. The unified partners help keep the ball close to him so it doesn't get out of his line of vision.
He is also now saying "kick the ball." These words, spoken by a student who has minimal language skills, are enough to bring tears!

April's Athlete of the Month Sees Red as the Finish Line
Two things encourage Donald Ray, 14, to cross the finish line at athletic events: a Clifford the Big Red Dog book or a volunteer wearing red at the finish line. It's easy to see why his friends look forward to cheering him on at practice. He is an inspiration.
The athlete, of Cobb County,  has become more social over the years because of Special Olympics and his family. He was born with Fragile X Syndrome, a genetic disorder, but that doesn't stop him from accomplishing his goals on the field.
"He is a real treat to have on the team and I hope to be his coach for many years to come. His family is a tremendous support. They're always the first to volunteer to help with anything. Each week at practice his parents and brother are there cheering him on to the finish line and it's great to see," said Coach Tony Hranek.
Hranek's daughter and SOGA staffer said,  "To watch him go from not communicating at all to now giving hugs and high fives  (even if you're not wearing red) makes you stand back and realize 'Wow! Special Olympics really does change lives.'"
So come out to Summer Games at Emory and cheer on Donald Ray. You can't miss him — he'll be the athlete crossing the finish line with a Clifford book in his hand. Don't forget to wear your red!

'Miracle Baby' Jimpson Rosser Athlete and Musician Win Athlete of the Year Award
The rich way Jimpson Rosser plays the piano and sings the song "Flow to You" could make the saddest back-row church go-er walk to the alter and say "Amen."
"The song touches my heart. When I sing, it moves my spirit," said the 17-year-old Newnan High School student, whose voice is more refined than his years would suggest.
His music motivates him in sports and life. Competing in Special Olympics since he was an elementary school student, he still gets inspired by singing in his head, "Wind Beneath my Wings."  But he says the support from his family and coach has also been crucial to his achievements.
Called "the miracle baby," Jimpson weighed three pounds when he was born and was two months premature. "We didn't think he was going to make it," said Jimpson's Uncle Lorenzo Houston, who added that Jimpson was in the hospital for the following three months. When his mother died at 42, Jimpson moved in with his uncle and Grandmother Martha Houston.
Jimpson began playing with the piano keys when he was old enough to crawl, Martha said. He learned to play by ear and also taught himself how to play the guitar. When he comes home from school, he pulls up the stool and plays and sings for an hour or so.  Or, he might sit on the porch and play outside until the neighborhood kids come by to listen. Music keeps him going, she said, and added that sometimes she has to tell him to go to bed or else he would be up too late playing the piano.
"Anything he sees, he'll make a note on it," Martha said. "He's wonderful."
Jimpson plays the piano and sings almost every Sunday at Greater Mount Calvary Baptist Church. Other churches around the state – located as far as Macon and La Grange – pay him to perform at church services. And Martha is there with him at each performance.
"His grandmother reinforced our goals of independence by allowing him to train and travel with us and encouraged him to be all that he could be by way of sports and music," said Jimpson's coach Kelly Abercrombie.
Kelly has also been supportive of  Jimpson, reminding him to do his best and not give up. She makes sure Jimpson and his teammates practice at school and takes the team to State Games where the athletes get to be away from home all weekend. Jimpson has competed in gymnastics, bowling, athletics, basketball, cycling and other team sports.
As Kelly, his grandmother and uncle have supported him, he mentors the other athletes on his team.
"Jimpson was the model athlete that exceeded all the strategic goals our program had set for improving skills and health," Kelly said. "Jimpson has always been a favorite among his peers because of his kindness and easy going manner."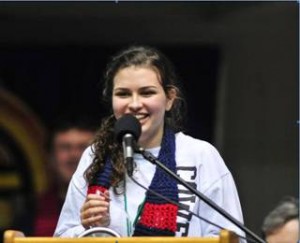 Montana Bush: Not Your Typical 17 Year Old
When Montana Bush first said "ice-cream" at 3 years old after not speaking or getting the yummy cold treat until she did, her mom Teresa decided they would make their own path to success.
It was a long journey for the Newnan mother and her daughter with autism. It started with a grunt language only her mom could decipher and blossomed into a teenager lettering in sports and becoming a pageant winner.
"We had to learn something recognizable. I don't know of a grunt language," Teresa said, remembering the communication struggle. After the ice cream break-through, getting support from programs for children with developmental delays, and each mastered task, the bar was raised for Montana.
"I didn't want Tana to have regrets when she's older. I wanted the best for her," Teresa said. Tana, 17, is what Montana's friends and family call her.
During elementary school, Montana was in a regular education class and paired with an assistant teacher. Still, Montana chose not to talk, stood in the corner and sometimes ignored or screamed at her teachers and mentors until they went away. Teresa stayed after Montana's teachers when she felt they didn't push her enough and sent her to the library to read after meltdowns. "I told them to treat her like any kid," she said.
Then eighth grade came and she was the highest-functioning student in her special education class and officially began competing in Special Olympics. Competing in Special Olympics, coupled with the social interaction with other athletes, helped make Montana a more well-rounded person, her Mom said. "Special Olympics has given her a chance to compete  . . . to feel like she's part of her school. It gives her confidence and a sense of belonging," she said.
But in school, Montana still felt like she didn't belong, even though she's the beautiful brunette with blue eyes who cheered throughout middle school and competed in the East Coweta High School Indian Princess Pageant three times.
"It turned out that a lot of [regular education] kids in her school knew her, but she didn't know them. These kids are isolated. The other students don't ask her to do anything out of school," she said.
Still, Montana walked confidently in her high school pageant. She was second runner-up her first year, and this year, she was crowned "Donation Diva" because she secured the most donations for her favorite charity, Coweta County Special Olympics. She plans to compete again next year.
Tana was also the first Special Olympics athlete to receive her school's letter and sports pins. Her mother convinced the school's athletic director that she deserved them after having represented her school and county in cycling, swimming, gymnastics and bowling competitions.
"She's not your typical 17-year-old," she said of Montana.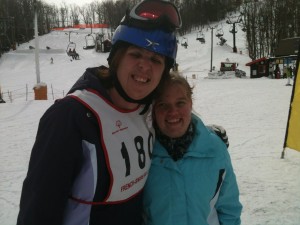 Michelle and Angela Pratt's Family Event
Special Olympics Georgia Athlete Angela Pratt headed toward Boone, NC with a car full of supporters for Southeast Alpine Skiing in early February.
Unlike for many athletes who travel to competition with their coaches and friends and have to leave their families at home, this event was definitely a family affair for the Pratts.
"The weekend was really fun," Angela said.
After weeks of practicing moving in skiis without snow and how to fall where you can get quickly back up, Angela won the bronze medal in Alpine Skiing Skills competition. She didn't fall during competition and was scored on how fast she went down the hill.
During the snowy and windy mountain weekend, everyone played a role. Mom Evelyn was a chaperone and checked on all the athletes. Angela's sister Michelle, who decided not to compete this year, helped other athletes back up if they fell down and assisted in getting them into their skiing suits. Dad Kevin probably had the best job there and was a Fan in the Stands, cheering on the athletes. He was able to get off work for the first time in five years during a southeast competition in order to attend.
"It means a lot to get to cheer them all on," Evelyn said. "It's great to see the excitement on their faces."
As for Angela and Michelle, the best part of the weekend was expanding their circle of friends and supporters. They laughed and said they've added some new faces to the 50 to 60 new friends they've made at competitions.