Unified Sports
Special Olympics Unified Sports® is an initiative that combines approximately equal numbers of Special Olympics athletes and athletes without intellectual disabilities (called Partners) on sports teams for training and competition. Age and ability matching of athletes and Partners is defined on a sport-by-sport basis.
UNIFIED SPORTS® – Introduced in 1988, Unified Sports furthers Special Olympics Georgia's commitment to foster inclusion into school and community sports programs. Unified Sports programs bring together, on the same team, athletes with and without intellectual disabilities.
These teams train and compete with other Unified Sports teams in 24 sports – alpine skiing/snowboarding, aquatics, athletics, artistic gymnastics, badminton, basketball, bocce, bowling, cycling, equestrian, figure/speed ice skating, flag football, floor hockey, golf, long distance running/walking, powerlifting, rhythmic gymnastics, sailing, soccer, softball, table tennis, tennis and volleyball. Unified Sports furthers Special Olympics Georgia's commitment to foster inclusion into school and community sports programs.
UNIFIED SPORTS PROFILE FORM (pdf)
Mail your completed form to:
Special Olympics Georgia
6046 Financial Drive
Norcross, GA 30071
or fax to 404-393-2929
For more information on how to start a Unified Sports program in your community, contact your Sports and Program Manager.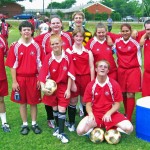 Photo courtesy of David Berry, Walton County coach
Unified Sports Testimonies
Jones County High School started their own "unified program" as a unified P.E. class.
Here are some comments from a teacher who started the program:
"Because of my involvement with Special Olympics, my interest in starting a fully inclusive or unified program within our school became clear. Why not start a class for the general education population to become  partners/mentors to my kids and do it in the form of a physical education class? We held an open enrollment meeting in the spring of 2008 and had over 50 students apply for the class. Selections for the Unified Team were based on individual class scheduling for each applicant, a brief description of why they would like to be a Special Olympics Volunteer/Unified Partner, teacher recommendations, and parent approval. The class was established and completely full by the summer of 2008."
Student comments:
I feel like having this class at my school has been a privilege. Because of this class I've become friends with my basketball teammate, Marco. It was fun to go to the Winter Games in Atlanta. We played video games all night in the hotel room. -Jonathan Boutwell, 10th grade
I really like being a part of a team. Going to the Winter Games in Atlanta with my teammates made me feel so good. I didn't just sit on the bench; I got to start the game. My partner Kristin helped me score my first shot in the game! – Marcus Wooten, 11th grade
This class was a major part of my senior year! I learned things that I couldn't learn in any other class, like patience. This class helped me learn things about myself that I didn't know before. I don't take things for granted now, like the simple ability to talk. Some of my Unified classmates can't verbally express themselves but I have learned to communicate with them without using words because of this class.- Colby Mills, 12th grade
Teacher's comments:
Starting this class is one of the most fulfilling things I have ever done in my life. Just watching the interaction between partners and athletes each day is heartwarming. They really enjoy each other's company. After attending the Winter SO Games, many of our kids (mostly partners) began to ask questions like, when we come back next year, and next year we can do this… -Mrs. Leah Bodnarchuk, teacher/Unified Basketball Coach
Parents of Special Olympics Georgia athletes:
I think this class made my son, Jonathan, more relaxed in crowds. I am impressed that he played in the SO Winter Games in front of a crowd. I think it makes him feel better about himself and builds his self-esteem. – Cheryl Boutwell
I think the Unified class is a wonderful opportunity for all the students. Melissa was excited about winning the bronze medal in Unified Bowling. To Melissa, it did not matter which place she received, she is happy being a winner. I ran into a Unified Partner in a local store recently, and the partner asked me to tell Melissa hello.  Because of this instance and other circumstances that allow Melissa to learn from her general education  peers her transition after high school will be much smoother. – Evelyn McCook
Unified Sports Partners Club
Partners Club give partners a chance to assist athletes in improving their sports skills, prepare for upcoming competitions, and develop meaningful relationships. Start a Partners Club at your school! Each member of the Partners Club must also complete the Unified Partner Profile Form.